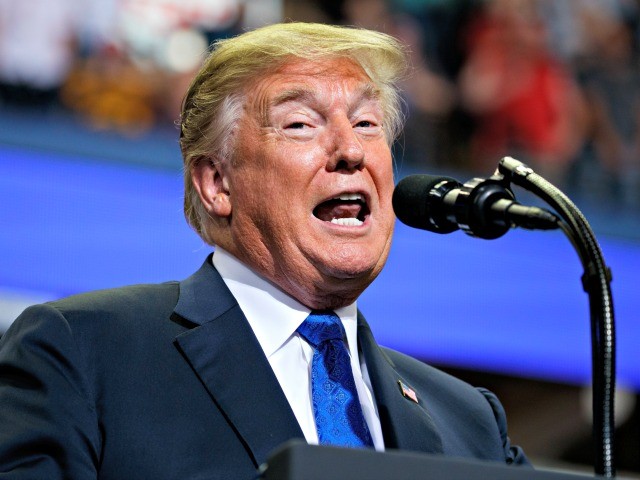 President Donald Trump mocked Christine Ford on Tuesday, the woman who accused Judge Brett Kavanaugh of sexual assault.
Trump mocked Ford for testifying that she had one beer, but then said "I don't remember" when asked about the exact date, time, or place of the alleged assault.
"I had one beer, that's the only thing I remember," Trump said, imitating Ford's testimony. "I don't know. I don't know. Upstairs, downstairs, I don't know. I don't remember."
He signaled his disgust with the allegations that extended Kavanaugh's confirmation vote in the Senate.
"A man's life is in tatters, a man's life is shattered," Trump said. "His wife is shattered — his daughters who are beautiful, incredible young kids."
He cautioned that the new standard set by the left was dangerous for the country.
"They destroy people, these are really evil people," he said, and added. "Guilty until proven innocent – that's very dangerous for our country."
The fired-up crowd cheered, "We Want Kavanaugh! We Want Kavanaugh!" as Trump continued his speech.
He also repeated his insults of Democrats in the Senate who were attacking Kavanaugh, including "Da Nang" Sen. Richard Blumenthal, who "cried like a baby" when he was caught lying about his record of service in Vietnam, as well as insults of Sen. Corey Booker and Sen. Dianne Feinstein.
Trump also pointed to Sen. Patrick Leahy's use of alcohol.
"Oh, he's never had a drink in his life," Trump joked. "Check it out. Look under Patrick Leahy slash drink."
He also named Sen. Bob Menendez of New Jersey, but added, "I'll leave him alone."
http://feedproxy.google.com/~r/breitbart/~3/9JRZHLd2_lw/