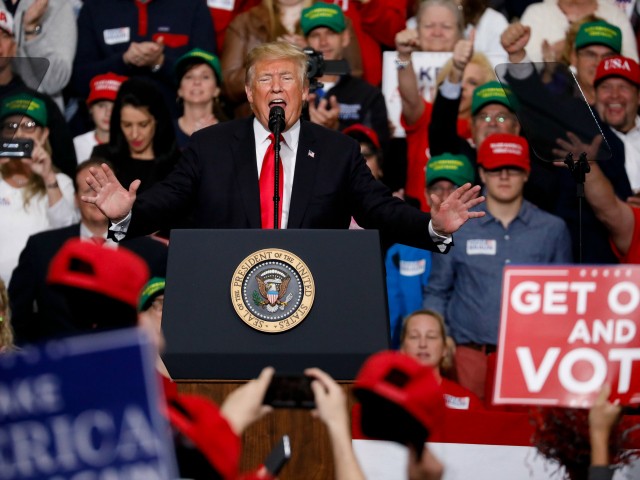 President Donald Trump urged an Indiana crowd of 8,500 strong on Friday that they have to get out and vote Republican if they do not want to say "Speaker [Nancy] Pelosi" for the next two years.
"If you don't want to be saying the words 'Speaker Pelosi' for the next two years, you gotta go out and vote," Trump said, urging the crowd to vote for congressional candidates Greg Pence and Jim Bair and a Republican Congress.
He encouraged the revved-up crowd to also vote for Mike Braun–a patriot, fighter, winner, and very successful guy–for U.S. Senate. He said Republican Braun does not need the position and is not a career politician. Trump said Braun will support military, law enforcement, and police. 
The president said a vote for Braun's opponent, incumbent Democrat Sen. Joe Donnelly, is a vote to make Senate Minority Leader Chuck Schumer the majority leader under a Democrat majority Senate.
Trump pointed to the Center for Effective Lawmaking, which has rated Donnelly the least effective Democrat in the U.S. Senate. He said this is why they call Donnelly "Sleepin' Joe."
The president told the crowd to get out and vote.
Trump listed Donnelly's voting against tax cuts and joining the Democrat "mob" to vote against Justice Brett Kavanaugh's confirmation. He said what the Democrats did to Kavanaugh was a disgrace. He went on to say that Donnelly voted to give free health care to illegals and joined all other Democrats to sponsor Sen. Dianne Feinstein's "Open Borders Bill."
"The people of Indiana do not have a one-week memory," declared Trump. "That was a disgrace what we watched up there," he said of the opposition to Kavanaugh's confirmation.
Michelle Moons is a White House Correspondent for Breitbart News — follow on Twitter @MichelleDiana and Facebook.
http://feedproxy.google.com/~r/breitbart/~3/dvpegMRD-iY/