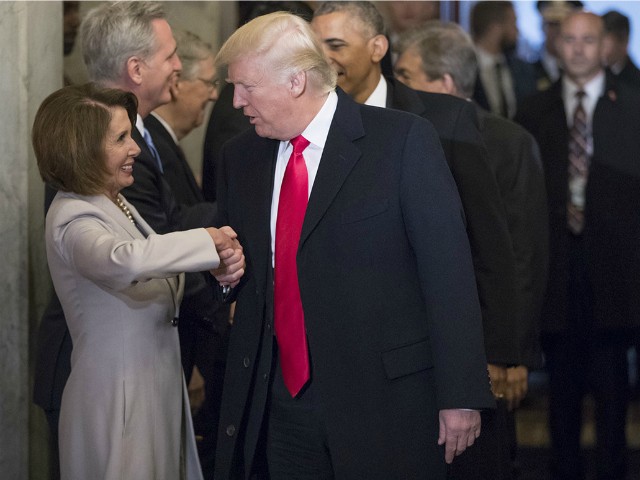 President Donald Trump promised again on Saturday that he will help Rep. Nancy Pelosi win her race for speaker of the House of Representatives.
"She may need some votes. I will perform a wonderful service for her. I like her," Trump said. "Can you believe it? I like Nancy Pelosi. She's tough, and she's smart, but she deserves to be speaker."
The president discussed Pelosi's bid for speaker on Saturday as he left the White House for his trip to California to view the devastation from the wildfires.
Trump criticized Democrats for "playing games" and "harassing" Pelosi but said he has plenty of Republican votes that he would get for her.
"I don't imagine that she'd need too many, but whatever number of votes she needs … she's got them from me automatically," Trump said. "Tell the opposition, they're wasting their time."
Trump also voiced his support for Pelosi on Twitter.
"She deserves this victory, she has earned it," Trump wrote on Twitter. "But there are those in her party who are trying to take it away. She will win!"
Pelosi needs 218 votes to become speaker in the House, and seventeen Democrats have signed a letter opposing her. Pelosi remains confident that she can withstand any challenge to her leadership position.
"I have overwhelming support in my caucus to be speaker of the House," she said during a press conference on Thursday, claiming she had the votes necessary to win.
But Rep. Marcia Fudge confirmed that she is thinking about running, working to galvanize support before she makes a decision.
"I've been overwhelmed by the amount of support I've received," she said to the Washington Post, guessing that approximately 30 Democrats are opposed to Pelosi.
Trump also expressed his support for Pelosi after the midterm elections, clarifying that he was sincere.
"There was nothing sarcastic about it," he said. "It was really meant with very good intentions. I think she deserves it. She's fought long and hard. She's a very capable person."
http://feedproxy.google.com/~r/breitbart/~3/_aLoLq9P2Ic/