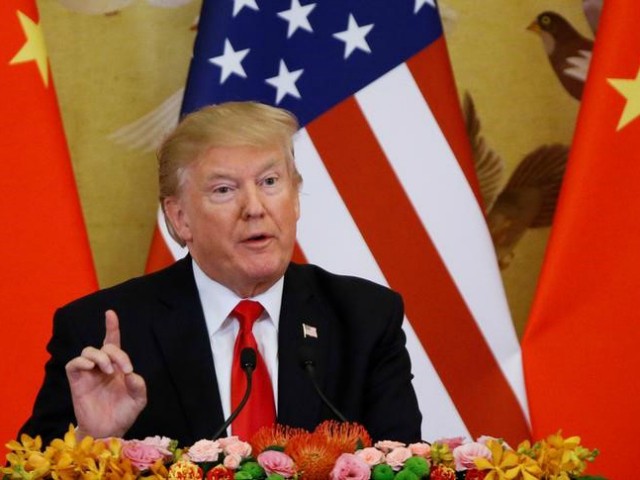 President Donald Trump reasserted his commitment to reaching a trade deal with China, despite the stock market plunging as a result of the uncertain 90-day "truce" on tariffs.
"We are either going to have a REAL DEAL with China, or no deal at all – at which point we will be charging major Tariffs against Chinese product being shipped into the United States," Trump wrote on Twitter.
The Dow Jones Industrial Average fell by about 799 points or 3.09 percent on Tuesday after Trump reminded China that he was "a Tariff Man" who could easily hike tariffs on Chinese goods if they failed to deliver on their promise to purchase American goods.
"Ultimately, I believe, we will be making a deal – either now or into the future," he wrote. "China does not want Tariffs!"
The stock market will be closed on Wednesday, during President H.W. Bush's funeral.
On Wednesday, Trump cited reports that China was preparing to import more soybeans and liquified natural gas, as proof that his deal was working.
He also signaled optimism that President Xi Jinping would deliver on his promise, after their meeting in Argentina.
"Very strong signals being sent by China once they returned home from their long trip, including stops, from Argentina," he wrote. "Not to sound naive or anything, but I believe President Xi meant every word of what he said at our long and hopefully historic meeting."
We are either going to have a REAL DEAL with China, or no deal at all – at which point we will be charging major Tariffs against Chinese product being shipped into the United States. Ultimately, I believe, we will be making a deal – either now or into the future….

— Donald J. Trump (@realDonaldTrump) December 5, 2018
…..China does not want Tariffs!

— Donald J. Trump (@realDonaldTrump) December 5, 2018
"China officially echoed President Donald Trump's optimism over bilateral trade talks. Chinese officials have begun preparing to restart imports of U.S. Soybeans & Liquified Natural Gas, the first sign confirming the claims of President Donald Trump and the White House that……

— Donald J. Trump (@realDonaldTrump) December 5, 2018
…..China had agreed to start "immediately" buying U.S. products." @business

— Donald J. Trump (@realDonaldTrump) December 5, 2018
Very strong signals being sent by China once they returned home from their long trip, including stops, from Argentina. Not to sound naive or anything, but I believe President Xi meant every word of what he said at our long and hopefully historic meeting. ALL subjects discussed!

— Donald J. Trump (@realDonaldTrump) December 5, 2018
http://feedproxy.google.com/~r/breitbart/~3/7ImE-d3nkhQ/