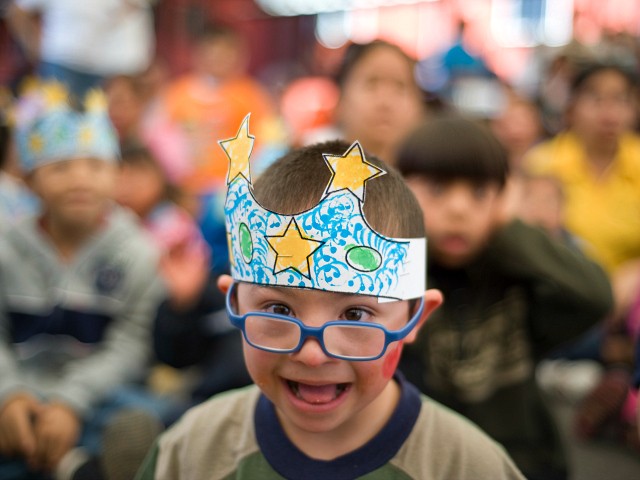 President Donald Trump released a powerful pro-life statement Monday, calling on Americans to "respect and honor" the sanctity of the lives of those with Down syndrome, "at every stage."
"Despite some persistent myths and stigmas, even within the medical community, our Nation strongly embraces the undeniable truth that a Down syndrome diagnosis is an opportunity to embrace God's gifts," Mr. Trump said in a presidential message on Down Syndrome Awareness Month.
Currently, studies suggest that some 67 percent of babies diagnosed with Down syndrome in the United States are aborted, while in many other countries, the percentage is higher still, and the abortion industry has fought tooth and nail to continue allowing women to selectively abort children thought to have the condition.
In his statement Monday, President Trump recalled the American foundational belief that all people "are endowed by their Creator with dignity and the rights to life, liberty, and the pursuit of happiness."
"I stand for life – in all of its beautiful manifestations – and I, and my Administration, will continue to condemn the prejudice and discrimination that Americans with Down syndrome too often endure," Trump said.
"We will always support the dreams of those with Down syndrome, and respect and honor the sanctity of their lives, at every stage," he said.
"Life is precious, and it is our moral duty to protect and defend it," he said.
Planned Parenthood and other representatives of the abortion lobby have resisted efforts to pass legislation protecting unborn children with Down syndrome from selective abortions. Although Planned Parenthood chapters have occasionally stepped back from the radical eugenic ideas and actions of founder Margaret Sanger, they persist in defending the eugenic practices targeting children with disabilities for elimination.
In 2016, Indiana passed a state law banning abortions based on a prenatal diagnosis of disabilities such as Down syndrome, but the law was blocked by an Obama-appointed federal judge following a lawsuit brought by Planned Parenthood.
In March of this year, another Obama-appointed federal judge blocked an Ohio law banning selective abortions that target babies diagnosed with Down syndrome, ruling that the law "violates the right to privacy of every woman in Ohio."
Cincinnati Right to Life noted that the law sought to protect "those targeted for destruction due to cultural bigotry against babies identified before birth as 'abnormal' or 'imperfect' due to a Down Syndrome prediction."
Follow Thomas D. Williams on Twitter Follow @tdwilliamsrome.
http://feedproxy.google.com/~r/breitbart/~3/5FVoL7O5iYA/