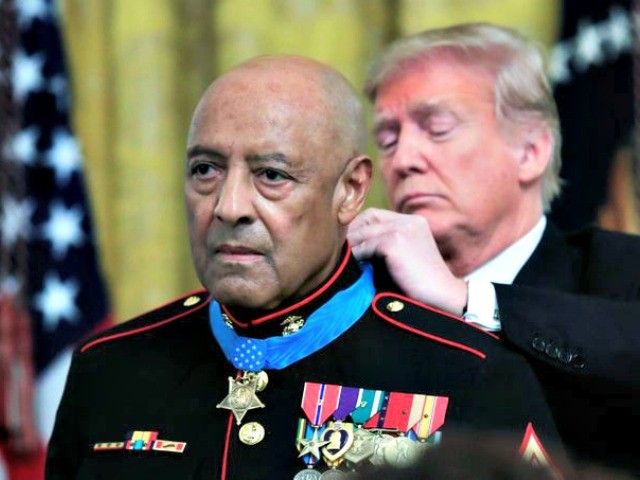 President Donald Trump awarded the Congressional Medal of Honor to retired Marine Sergeant Major John L. Canley on Wednesday for his heroic actions in the Vietnam War.
Dozens of marines attended the ceremony, including Commandant of the Marine Corps General Robert Neller, Marine Corps General Joseph Dunford, the Chairman of the Joint Chiefs of Staff, and former Marine General John Kelly, the president's chief of staff.
The Marines in the audience shouted with pride and applauded each of their comrades during Trump's speech highlighting Canley's heroic actions during the Tet offensive and the battle of Hue City.
The president praised Canley for bravely leading the Marines under his command in multiple combat missions.
"John raced straight into enemy fire over and over again, saving numerous American lives and defeating a large group of communist fighters," Trump said. "
Several soldiers who served under Canley's command were present for the ceremony, witnesses to the heroism of his actions.
"Despite sustaining serious injuries – very, very serious injuries – he continued to face down the enemy with no thought for his own safety," Trump said, recalling that Canley fought the communists for seven straight days and saved the lives of over 20 Marines.
The 80-year-old retired Marine continues to advise young Marines on a military base near his home.
"He is truly larger than life," Trump said, praising his "extraordinary personality."
"America is the greatest force for peace, justice, and freedom the world has ever known because of you and people like you. There are very few like you," he said.
http://feedproxy.google.com/~r/breitbart/~3/LVES-UVvt1o/