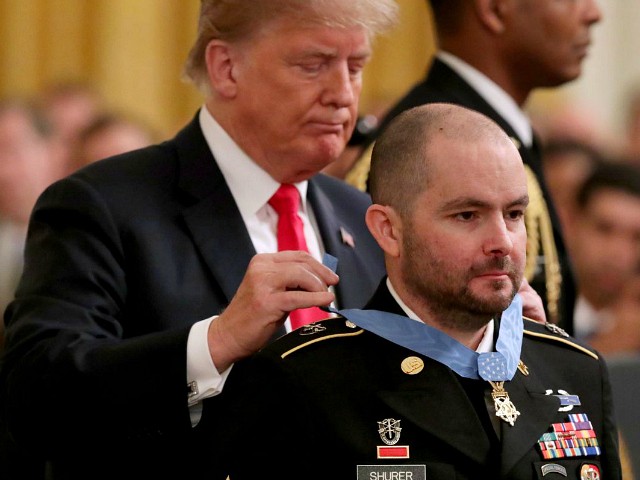 President Donald Trump awarded the Medal of Honor on Monday to Army medic Ronald J. Shurer II for his heroic actions in Afghanistan.
Shurer was a medic in Afghanistan during the six-hour battle in Shok Valley, and he raced to save the lives of his fellow soldiers by treating their wounds and evacuating them to safety in treacherous territory.
Shurer's Special Forces team was traveling to take out a terror target when terrorists attacked them with snipers, rocket-propelled grenades, small arms, and machine guns.
Trump recounted the story, noting that the medic kept treating the men even after an enemy bullet struck his helmet. He made multiple trips into the fight to defend his fellow soldiers in the special forces, carrying them down a mountain and shielding them with his body.
All of the United States soldiers made it out of the valley alive.
Shurer currently serves as a member of the Secret Service on the agency's Counter Assault team.
Trump recalled that he recently surprised Shurer and his wife with the news of his decision to award him the Medal of Honor.
The president also noted that Shurer was recently diagnosed with cancer.
"He's been fighting it every single day with courage and strength," Trump said.
He called Schurer "the best dad and role model" to his two sons, after which one of the boys told Trump that their father was the "best dad ever."
"We stand in awe of your father's courage," Trump added.
http://feedproxy.google.com/~r/breitbart/~3/i_EGdHnnjbQ/