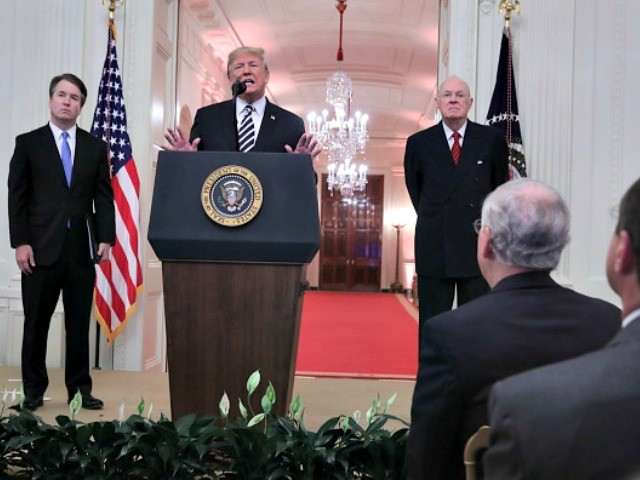 President Donald Trump began Justice Brett Kavanaugh's swearing-in ceremony by apologizing on behalf of America.
"On behalf of the nation, I'd like to apologize to Brett and the entire Kavanaugh family for the terrible pain and suffering you've been forced to endure," Trump said, acknowledging that his words were "unusual."
The president delivered remarks ahead of the swearing-in ceremony at the White House.
Addressing Kavanaugh specifically, the president said, "You sir, under historic scrutiny, were proven innocent."
The entire room of Trump supporters and staff applauded the entire Kavanaugh family.
The president also thanked Senate Majority Mitch McConnell for his efforts, urging him to stand to be recognized.
All of the Supreme Court justices were present for the ceremony, including the retiring Justice Anthony Kennedy, who performed the swearing-in ceremony.
Joining Kavanaugh at the ceremony were many friends fellow legal professionals in Washington, as well as his parents and daughters.
After taking the oath of office, Kavanaugh spoke to the audience vowing to serve the law in the Supreme Court.
"I will always be humbled and proud to sit in Justice Kennedy's seat on the Supreme Court," he said.
Kavanaugh also thanked McConnell for his steady leadership and the "wisdom and fairness" of Senate Judiciary Chairman Chuck Grassley
He also singled out Senators Jon Kyl, Lindsey Graham, and Joe Manchin for gratitude.
"The Supreme Court is a team of nine and I will always be a team player on the team of nine," Kavanaugh said.
Kavanaugh also noted that all of his law clerks were women, a historic first on the Supreme Court.
He also thanked all of his friends, including his friends in high school, law school and the "tight-knit" Catholic community in the Washington, DC area.
"I love all my friends," he said as the room applauded.
He also paid special tribute to his wife.
"She is a rock. I thank God every day for Ashley in my family," Kavanaugh said.
Kavanaugh acknowledged that the confirmation was "contentious" and "emotional" but said that he wished to be a force for "stability and unity" on the Supreme Court.
"I was not appointed to appoint one party or one interest, but to serve one nation," he said.
http://feedproxy.google.com/~r/breitbart/~3/AYcbgR7SpGE/