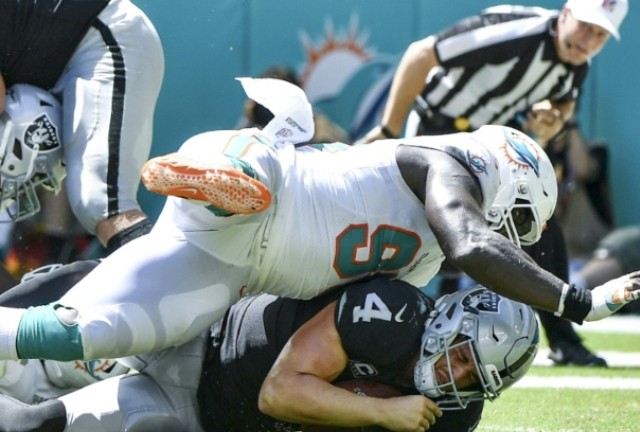 Miami Dolphins defensive end William Hayes will miss the remainder of the season after suffering a knee injury while attempting to comply with the NFL's controversial new tackling rules, it was confirmed Monday.
Hayes tore his anterior cruciate ligaments in Sunday's victory over the Oakland Raiders as he sacked quarterback Derek Carr.
The 33-year-old twisted his knee as he attempted to try to avoid placing the full weight of his body on Carr following the sack.
Under NFL rules introduced this season designed to offer more protection to quarterbacks, defenders must avoid following through after making a tackle or risk a 15-yard roughing-the-passer penalty.
"He was trying to not put body weight on the quarterback," Dolphins coach Adam Gase said. "His foot got caught in the ground."
"It hurts. He was one of our leaders, one of our best guys in the locker room… It's going to be a tough one for us to swallow."
Asked if he believed the new law change was to blame for the injury, Gase replied: "I'm just telling you what happened."
Others were less restrained however, with San Francisco 49ers cornerback Richard Sherman writing on Twitter that the injury showed the NFL was preoccupied with the safety of quarterbacks.
"They don't care about the rest of us getting hurt," Sherman wrote. "Long as the QB is safe."
Hayes' injury comes amid ongoing controversy over the new tackle rules.
Green Bay Packers star Clay Matthews was on Sunday flagged for the second week running for falling foul of the new rules.
Matthews had been sanctioned for what appeared to be a textbook tackle on Minnesota Vikings quarterback Kirk Cousins on September 16.
Matthews was penalised for the same violation on Sunday after tackling Washington quarterback Alex Smith "with all or most of the defender's weight," the NFL said.
Matthews criticised the decision following the Packers' 31-17 loss.
"Unfortunately this league's going in a direction I think a lot of people don't like, I think they're getting soft," Matthews said.
"The only thing hard about this league is the fines they levy down on guys like me who play the game hard.
"Obviously when you're tackling a guy from the front you're gonna land on him. I understand the spirit of the rule, I said that weeks prior. But when you have a hit like that, that's a football play.
"I even went up to Alex Smith after the game, asked him, 'What do you think? What can I do differently?' Because that's a football play."
http://feedproxy.google.com/~r/breitbart/~3/Z1fEiut6dBw/