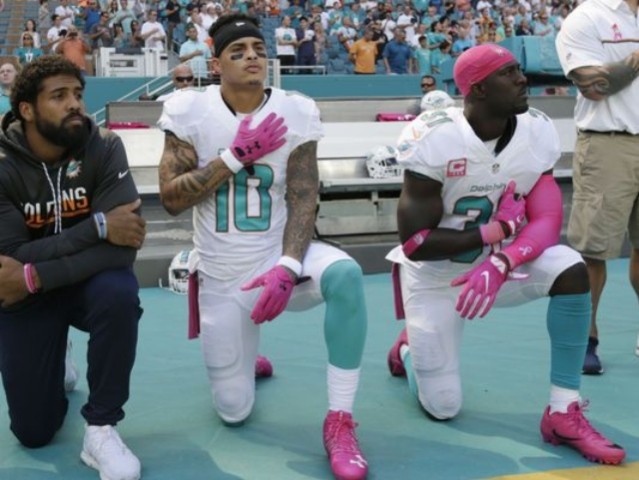 Miami wide receiver Kenny Stills is one of the few remaining NFL players who still kneels during the national anthem. He was also named as the Dolphins' nominee for the 2018 Walton Payton NFL Man of the Year award.
All 32 NFL teams can nominate one player.
This is the second straight year Stills received the Dolphins' nomination for this award, which according to the NFL, "Recognizes an NFL player for outstanding community service activities off the field, as well as excellence on the field."
Stills does a lot of charity work in South Florida during his time off from football, like when he visited VA hospitals and feeding the hungry.
"On any Tuesday, if you try to get a hold of him, you're going to have to wait until five or six o'clock because he's doing community stuff all day," Dolphins coach Adam Gase told reporters in 2017. "I've been impressed with how he's made himself available, how much he tries to do."
The Dolphins' standout wide receiver has knelt during the Star-Spangled Banner the last couple of years to protest social injustice and police brutality.
"People were getting killed and there was no accountability for it," Stills said about police shootings at the 2018 "Police and Youth Conference" held February at Hard Rock Stadium in Miami Gardens. The meeting included 600 high school students from Dade and Broward with police officers from those two counties.
He's one of the last remaining kneelers from the movement that was started in the summer of 2016 by former San Francisco 49ers QB Colin Kaepernick. While the kneeling is down to less than a handful of players, Stills doesn't intend on standing any time soon.
"We're not going anywhere," Stills said in September, 2018 about the anthem-protest movement. "It's not going to change. Activism isn't something you just kind of get involved in and then turn your back on it. Once your eyes are open to some of the things that are happening, you continue to work and try to grow and create change for the rest of your life. It's something I'm committed to forever."
Stills anthem-kneeling might be hurting the Dolphins at the box office. In August 2018, the Broward County PBA advised their rank-and-file to stop going to Dolphins games since Stills and teammate Albert Wilson kneeled during the anthem before a preseason game against Tampa Bay.
"The Broward County PBA recently offered our members discounts to a Miami Dolphins game because that franchise said they were going to honor all First Responders," the Broward County Police Benevolent Association posted in a statement posted to Facebook. "We entered into this partnership with the understanding that the Dolphins organization would require their players to stand for the national anthem. This did not happen at last night's preseason game against Tampa Bay.
"As a result, the BCPBA will no longer participate in this ticket program, and we are asking all of our members, as well as members of the Dade County PBA and Palm Beach County PBA, not to participate either. If you have already purchased tickets to this game, we encourage you to call the Dolphins ticket office to request a refund because this organization obviously does not honor First Responders and the dangers they put themselves in every day."
When the Dolphins tweeted their congratulations to Stills for his 2018 Payton Award nomination, Miami fan Nicholas Valluzzo Jr. said on twitter, "Stand for the anthem, plain and simple. If you don't, you don't count for anything. Best of luck, you'll need it."
The winner of Payton Award, which will be announced Feb. 2, will have $250,000 donated to the charity of his choice. Houston Texan defensive end J.J. Watt won the award last season.
http://feedproxy.google.com/~r/breitbart/~3/a6H-7hM6s5k/