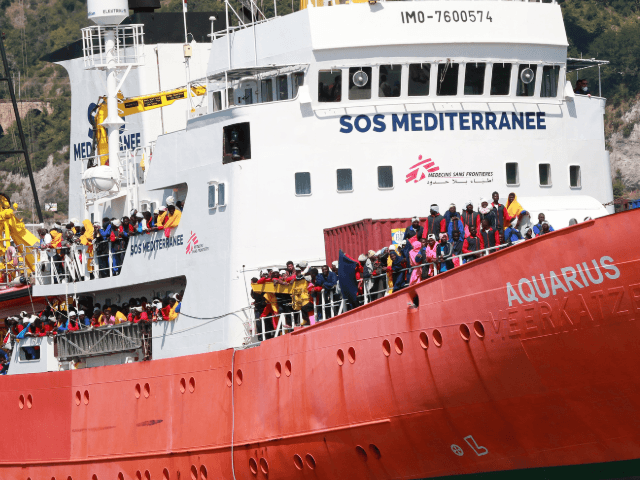 Doctors Without Borders (MSF) have announced after months of setbacks that they will be permanently cancelling their migrant ferry activities in the Mediterranean sea.
The NGO announced the cancellation of their so-called "rescue" operations on Thursday, saying that due to government pressure they could not continue to operate the Aquarius vessel off the coast of Libya.
"This is the result of a sustained campaign, spearheaded by the Italian government and backed by other European states, to delegitimise, slander and obstruct aid organisations providing assistance to vulnerable people," the group claimed.
MSF's general director Nelke Manders called the cancellation a "dark day" and said, "Not only has Europe failed to provide search and rescue capacity, it has also actively sabotaged others' attempts to save lives. The end of Aquarius means more deaths at sea, and more needless deaths that will go unwitnessed."
However, analysis by the EU Border and Coast Guard Agency (Frontex) suggests the presence of ships like the Aquarius "help[s] criminals achieve their objectives at minimum cost, [and] strengthen their business model by increasing [migrants'] chances of success" in reaching Europe — all of which ultimately encourages more people to attempt sea crossings, which means more drownings.
Critics of the NGO ferries also point to the fact they always bring migrants to European ports rather than much nearer African ports, and suggest "rescue" is not their main priority.
In total, the Aquarius has picked up close to 30,000 migrants in the Mediterranean since February of 2016, but the ship had been plagued by problems in recent months, losing its right to first fly the flag of Gibraltar and then the flag of Panama, forcing it to remain in port in the French city of Marseille.
Italy Cuts Illegal Migration Sea Landings by 80 Per Cent https://t.co/oc5H6mOetN

— Breitbart London (@BreitbartLondon) December 6, 2018
Populist Italian Interior Minister Matteo Salvini reacted to the cancellation of operations saying, "fewer departures, fewer landings, fewer deaths. That's good."
Since becoming Interior Minister earlier this year, Salvini vowed to shut down the migrant ferry operations that some have described as "taxis" for illegal migration, with Italian prosecutors alleging they co-ordinate with people-smugglers.
Salvini first closed Italian ports to migrant rescue NGOs and as a result, new reports show that he has contributed toward the number of migrants coming to Italy decreasing by 80 percent in the last two years.
The new numbers reveal that Italy has gone from seeing the newest arrivals in 2016, ahead of Spain and Greece, to now being in third place behind them.
Italy Releases Evidence of Open Borders NGO Taking Migrants from People Smugglershttps://t.co/bIZnTPxHFs

— Breitbart London (@BreitbartLondon) August 10, 2017
Follow Chris Tomlinson on Twitter at @TomlinsonCJ or email at ctomlinson(at)breitbart.com
http://feedproxy.google.com/~r/breitbart/~3/yWW7jm9PKMQ/