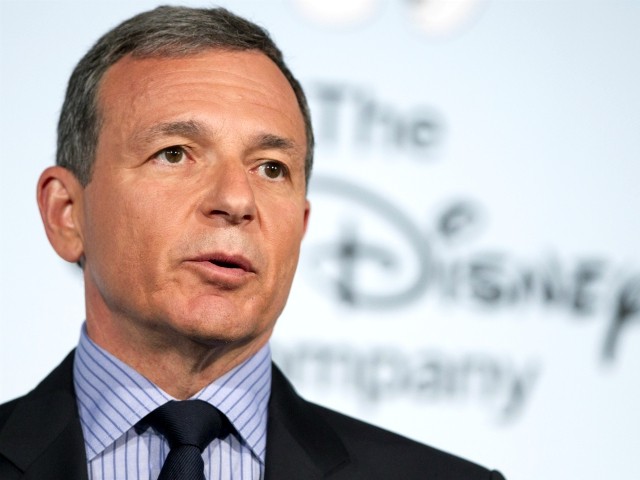 Disney's Chief Executive Officer Bob Iger admitted in a revealing interview released Thursday that ESPN became too political, an issue Hollywood's most powerful man says the sports network's president is trying to fix.
Asked how ESPN has changed in the past year, Iger told the Hollywood Reporter that Jimmy Pitaro — the longtime Disney executive who replaced John Skipper as the network's president in March — has attempted to refocus its coverage on sports and away from politics.
"There's been a big debate about whether ESPN should be focused more on what happens on the field of sport than what happens in terms of where sports is societally or politically," Iger began. "And Jimmy felt that the pendulum may have swung a little bit too far away from the field. And I happen to believe he was right."
"And it's something, by the way, that I think John Skipper had come to recognize as well. But Jimmy coming in fresh has had the ability to address it, I think, far more aggressively and effectively," he added. "He has brought back some balance."
Speaking before employees at ESPN's Bristol, Connecticut, headquarters in March, Pitaro pushed back against concerns that the network had become overtly political. "I do not believe that we are a political organization. I know that a lot of conversation has happened within this company in the past year and I believe that we netted out in the right place, which is we are a sports media company," Pitaro said.
"Of course, there is going to continue to be an intersection of between sports and politics and we're going to continue to cover that," the executive added. "We're going to cover it fairly and honestly. But we are focused on serving the sports fan."
However, ESPN's critics point to what feels like a limitless amount of instances where the network has prioritized left-wing politics over its sports coverage. In May, ESPN announced it was firing its public editor Jim Brady after the longtime sportswriter penned a piece questioning ESPN's future, which included criticism of its business model and increasingly political coverage.
Brady accused ESPN of ignoring its viewers who long for the network to  "stick to sports."
"I see no need for it to force its way into politics when the connection is not direct. Additionally, ESPN needs to do better at reflecting points of view from across the political spectrum," wrote Brady, later adding "there are surely people who have canceled ESPN because they think it has chosen a political side."
Last January, ESPN's Mina Kimes dubbed the NFL's National Anthem protests "undeniably" her 2017 sports story of the year. A month later, ESPN's First Take co-host Max Kellerman said the Houston Astros accepting an invitation to the White House to celebrate their World Series victory would place the team "on the wrong side of history" because the Trump administration "must not be normalized." In February, First Take advocated for gun control in the aftermath of the deadly shooting at Marjory Stoneman Douglas High School in Parkland, FL. A month later, Kellerman said free agent safety Eric Reid's claim that NFL owners have refused to sign him, after two days of free agency, and his former 49ers teammate Colin Kaepernick over their National Anthem protests was akin to Jim Crow-era segregation. In May, First Take brought on convicted rapper Meek Mill to discuss criminal justice reform.
In March, ESPN announced it would be launching a new morning program centered around social justice and left-wing politics. "It's a big, costly swing for the network, including leasing a 21,000-square-foot studio and office complex in Manhattan's South Street Seaport and nearly $15 million in talent salaries ($6.5 million for Greenberg, 50; $5 million for Beadle, 42; and $3 million for Rose, 45, sources say)," wrote the Hollywood Reporter. Last week, ESPN told Sports News that seasoned morning television producer Pete McConville would be joining "Get Up!" as the show continues to struggle. The show, which has been shortened from a three-hour show to just two hours, could be canceled unless it pulls in solid viewership by Superbowl 53.
The network has also courted its fair share of controversy, with hosts taking on President Donald Trump's stance against NFL players kneeling during the National Anthem. Jemele Hill, who left ESPN last Friday, called the president a "white supremacist" in a Sept 2017 tweet. Later, Hill was suspended for two weeks for encouraging fans to boycott the Dallas Cowboys after owner Jerry Jones warned players would face suspension if they protested the anthem.
Further, the network drew ire from fans for hiring frequent Trump critic and former MSNBC anchor, Keith Olbermann, as play-by-play announcer for the Yankees-Mets matches up on August 13. "ESPN has an exclusive window in New York because of SNB rainout. With all eyes on it, putting Olbermann in the booth was a bad decision,' tweeted New York Post sports media columnist Andrew Marchand. "This game doesn't need a gimmick." Others chimed in as well. "[H]ow many times must Keith Olbermann ruin his career before we have to stop seeing him get another shot at ruining his career? The guy is a loser and has proven it over and over. Let it go now," said radio host Joe Pags Pagliarulo.
After years of bleeding millions of subscribers, ESPN is attempting to show both its fans and Wall Street that the tide is changing at the network, announcing Thursday that its subscription-only streaming service has crossed one million customers. However, as analysts note, the milestone comes with a major caveat.  "The vast majority of the 1 million are new subscribers, who've signed up for ESPN+ since its launch in April," a statement by the network reads. "Adding ESPN Insider to ESPN+ did add some subscribers, but they account for a minority of the total (substantially so, in fact). The point behind merging ESPN Insider to ESPN+ was about simplifying and clarifying our ESPN digital subscription offering to fans – while also adding value to their subscription."
http://feedproxy.google.com/~r/breitbart/~3/1mmMR7N_LfU/