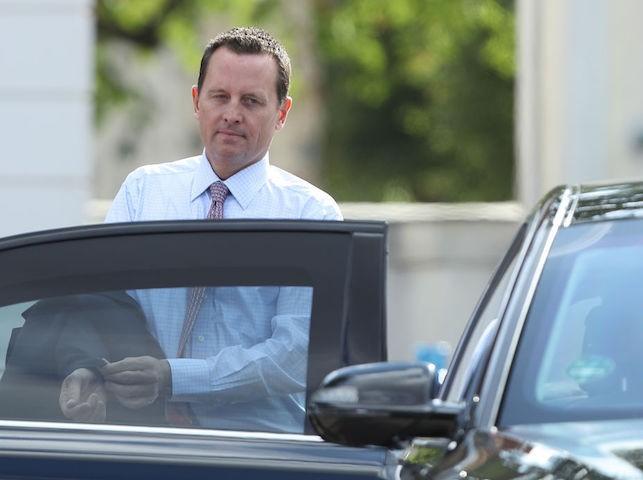 Nation of Islam leader Louis Farrakhan has been called out for making light of his own anti-Semitic record by U.S. ambassador Richard Grenell.
America's top diplomat in Germany, Grenell made his feelings known on Twitter:
Every day in Berlin I look out the Embassy window and see the Memorial to the Murdered Jews of Europe. We must reject this kind of rhetoric or we betray our promise to Never Forget. #disgustinghttps://t.co/VrrgcVKbYY

— Richard Grenell (@RichardGrenell) October 18, 2018
Grenell acted after Farrakhan addressed a gathering in Detroit on Sunday to mark the 23rd anniversary of the Million Man March, and used it as a platform to launch yet another attack on Jews, calling them "termites."
"To the members of the Jewish community that don't like me, thank you very much for putting my name all over the planet … I'm not mad at you, 'cause you're so stupid," Farrakhan said. He then continued to an audience that erupted in adoring laughter:
"So when they talk about Farrakhan, call me a hater, you know they do, call me an antisemite — stop it! I'm anti-termite! I don't know nothing about hating somebody because of their religious preference."
See below:
I'm not an anti-Semite. I'm anti-Termite. pic.twitter.com/L5dPQcnVg4

— MINISTER FARRAKHAN (@LouisFarrakhan) October 16, 2018
New York Assemblyman Dov Hikind (D-Brooklyn) has since urged fellow Democrats to condemn Farrakhan's statements about Jews.
"Farrakhan's vile statements against Whites and Jews have been ignored by my fellow Democrats," Hikind said in a press release Wednesday. "There is nothing subtle about this modern-day Goebbels' hatred. This racist doesn't even hide behind an anti-Israel statement; he just publicly attacks Jews and the Jewish religion, and works to incite hatred and racism among his followers. Even worse, Democrats continue to give him a pass. Former President Bill Clinton sat next to him at Aretha Franklin's funeral. It was appalling!"
The U.S. Senate confirmed Grenell as U.S. Ambassador to Germany in April. He is a former Mitt Romney campaign spokesman and communications director for John Bolton when he served as U.S. ambassador to the U.N.
Follow Simon Kent on Twitter:

Follow @SunSimonKent

or e-mail to: skent@breitbart.com



http://feedproxy.google.com/~r/breitbart/~3/4p-mVL-WOSU/