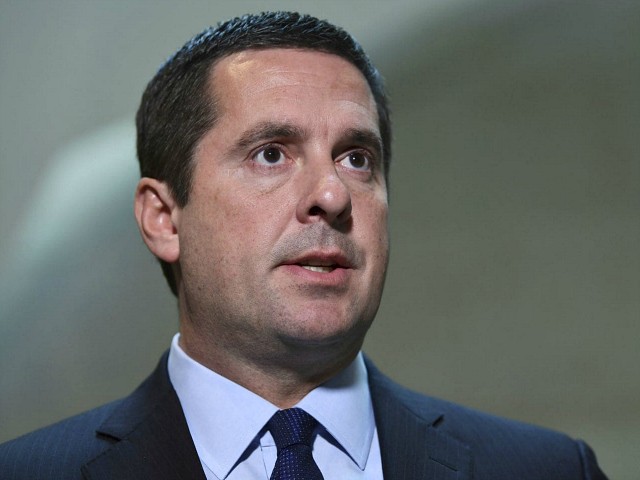 Democrats and left-wing media have demonized House Intelligence Committee Chairman Devin Nunes (R-CA) for exposing the Clinton campaign's role in funding the salacious and unverified "pee dossier" against President Donald Trump, and they are now trying to go after his parents too.
Esquire.com published the latest Nunes hit piece on Sunday evening, which involved reporter Ryan Lizza going to Sibley, Iowa, to stalk Devin Nunes' parents at their home and dairy farm and asking members of their community for dirt on his parents and whether they were employing undocumented workers.
Lizza, who was fired from the New Yorker for sexual misconduct in 2017, wrote that Nunes has tried to hide that his parents moved to Iowa in 2006, and after it was published, mainstream media news reporters — many who reside in the liberal bubbles of Washington, DC, or New York City — expressed surprise over this fact.
Lizza writes, "So here's the secret: The Nunes family dairy of political lore—the one where his brother and parents work—isn't in California. It's in Iowa."
However, it was no secret to at least two other news outlets.
Nunes' parents' farm's location was included in a column that ran in his local paper about a month ago. The Fresno Bee's Rory Appleton wrote: "Near the end of 2006, Nunes' parents and brother moved their farm to Sibley, Iowa. According to Iowa state records, Toni Dian Nunes, Devin's mother, registered Nustar Farms LLC in November 2006."
In addition, the Fresno Bee column notes that trade publication Dairy Star reported in 2009 that Nunes' father and brother ran a dairy farm in Iowa and that Nunes' father had sold his 5,000-acre farming operation in Tulare County, California.
But Esquire's article's "evidence" that Nunes allegedly hid the location of his parents' farm is a 2010 press release that said that Nunes' "family has operated a dairy farm in Tulare County, California for three generations."
Nowhere does the article mention that the farm referred to is Nunes' grandfather's farm in Tulare County, California, which is now run by his uncle. That is the farm that Nunes grew up working on and has been in the family for three generations, according to Nunes' aide.
Oddly, Esquire.com also notes other outlets' articles describing Nunes' family farm, including one describing it as a "640-acre farm" — clearly not the 5,000-acre farm his parents once operated.
Lizza gives the actual "family farm" passing mention, writing "Devin's uncle Gerald still owns a dairy back in Tulare," but he writes "his immediate family's farm—as well as his family—is long gone."
Lizza never actually finds out if Nunes' parents' farm actually employs undocumented workers, but he repeatedly floated the prospect of ICE raids at farms in Sibley. Liberals — despite normally calling for ICE's abolishment and opposing ICE raids, are now calling for an ICE raid on Nunes' parents' farm.
It sounds like maybe we should call #ICE on @DevinNunes family farm, NuStar dairy in Sibley, IA. Don't you think @SteveKingIA? https://t.co/bZQENRHekM

— Travis Andren (@travistydesigns) October 1, 2018
The article comes on the heels of harassment Nunes' other family members have faced, including his uncle, grandmother, and wife Elizabeth, who is an elementary school teacher.
A video crew working for Andrew Janz, a 34-year-old deputy district attorney in Fresno County who is running for Nunes' seat, was found on Nunes' uncle's property without permission in August, according to The Federalist.
Nunes' uncle Gerald called the sheriff's office, which dispatched two deputies. After the deputies arrived, the crew then crossed the street to finish filming. Later, Janz' team accused Nunes' uncle of harassing them. Janz tweeted that Nunes and his uncle were "triggered snowflakes."
A reporter from the Fresno Bee also showed up to visit Nunes' 98-year-old grandmother unannounced, according to The Federalist. An individual from Los Angeles sought Nunes' wife's work emails under the Freedom of Information Act (FOIA).
After the emails were obtained, a left-wing group headquartered in Washington, DC, called Campaign for Accountability filed an ethics complaint against Nunes. According to The Federalist, it is filled with "sheer speculation and innuendo accusing Nunes of financial improprieties."
Nunes' Chief of Staff Anthony Ratekin told the outlet, "A left-wing group used the information [from the FOIA] to file a frivolous ethics complaint against Rep. Nunes based on a willful misreading and blatant misrepresentation of the information."
Despite polls released by Janz showing a tightening race between Nunes and himself, a recent Action News poll showed Nunes with a 14 percentage point lead, at 55 percent over Janz's 41 percent.
http://feedproxy.google.com/~r/breitbart/~3/yEnJ-cLPk_E/