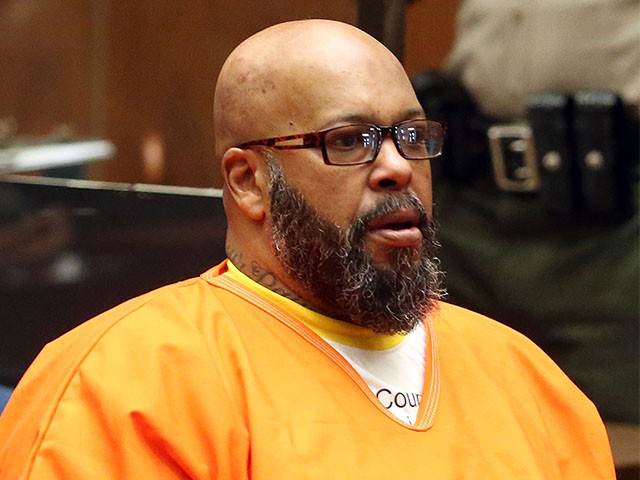 LOS ANGELES (AP) — A judge on Thursday sentenced former rap mogul Marion "Suge" Knight to 28 years in prison for the 2015 death of man he ran over outside a Compton burger stand.
Knight listened without reaction as members of the dead man's family addressed the court, describing 55-year-old Terry Carter as a deeply devoted husband, father, grandfather and friend.
Carter's daughter Crystal called Knight "a disgusting, selfish disgrace to the human species."
Knight wore a large cross and orange jail attire during Thursday's sentencing, which draws to a close a nearly four year court saga over the fatal 2015 confrontation. He had been fighting with a longtime rival through the window of his pickup truck outside the burger stand, struck that man with his truck before running over Carter.
Knight's numerous defense lawyers had contended he was acting in self defense, but the Death Row Records co-founder pleaded no contest to voluntary manslaughter last month, averting a trial on murder and attempted murder charges.
The prison sentence represents the low point of a long decline for Knight, one of the most important figures in the history of hip-hop. At his pinnacle in the mid-1990s, he was putting out wildly popular records that are now considered classics from Dr. Dre, Snoop Dogg and Tupac Shakur.
Knight was at the center of the feud between East Coast and West Coast rappers that marked the middle of that decade. Shakur was in Knight's car when he was killed in a drive-by attack in Las Vegas in 1996.
He answered procedural questions but did not address the court Thursday.
Knight has felony convictions for armed robbery and assault. He lost control of Death Row after it was forced into bankruptcy. His previous convictions make him ineligible for probation, Los Angeles Superior Court Ronald Coen ruled.
In January 2015, he got into a fight with a longtime rival, Cle "Bone" Sloan, a consultant on the N.W.A. biopic "Straight Outta Compton."
In a moment captured on surveillance video, Knight backed his truck into Sloan, who was injured, then drove it forward into businessman Terry Carter, who died from his injuries. Knight's attorneys have said it was an act of self-defense.
Voluntary manslaughter would normally bring a sentence of 11 years in prison, but Knight's conviction along with his previous felonies triggers California's three strikes law. That doubles the manslaughter sentence and adds an extra six years.
The agreement also clears Knight in two other cases, both from 2014. He was accused of stealing a camera from a woman and of sending threatening text messages to "Straight Outta Compton" director F. Gary Gray.
http://feedproxy.google.com/~r/breitbart/~3/t8UVVvdARPg/