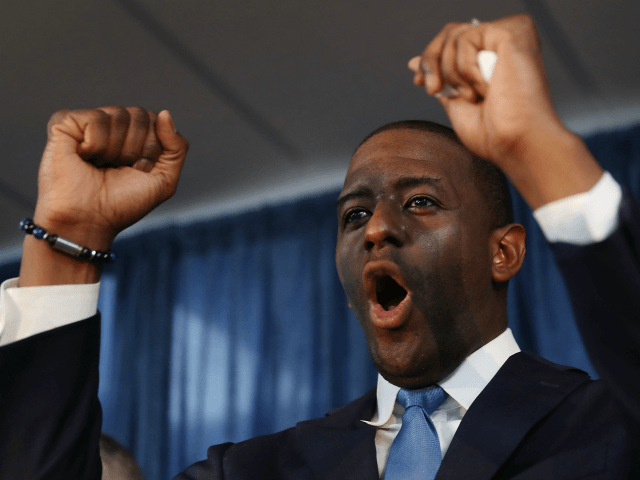 Democrat gubernatorial candidate Andrew Gillum is taking criticism for accepting fundraising help from disgraced Broward County Sheriff Steve Israel.
The Sun Sentinel released a report showing that Israel was supporting Gillum via " a fundraising breakfast" for him in Fort Lauderdale.
Andrew Pollack, father of Meadow Pollack–who was slain the February 14, 2018, Parkland high school shooting–responded by partially blaming his daughter's death on Israel's lack of "leadership." His observation is based on the fact that one of Israel's deputies, Scot Peterson, arrived at the scene of the shooting roughly 90 seconds after it began but did not enter the building the building to confront the gunman.
The Tampa Bay Times quoted Pollack saying, "It is absolutely disgraceful that Andrew Gillum would campaign with Sheriff Israel. Gillum is siding with Sheriff Israel above the interests of our students and citizens, making our schools and communities less safe. We need to elect [Republican nominee] Ron DeSantis so people like Sheriff Israel can be held accountable and removed from office."
Pollack filed a wrongful death suit against Israel's deputy Scot Peterson in April.
AWR Hawkins is an award-winning Second Amendment columnist for Breitbart News, the host of the Breitbart podcast Bullets with AWR Hawkins, and the writer/curator of Down Range with AWR Hawkins, a weekly newsletter focused on all things Second Amendment, also for Breitbart News. He is the political analyst for Armed American Radio. Follow him on Twitter: @AWRHawkins. Reach him directly at awrhawkins@breitbart.com. Sign up to get Down Range at breitbart.com/downrange.
http://feedproxy.google.com/~r/breitbart/~3/Ne-oG2vrwHI/