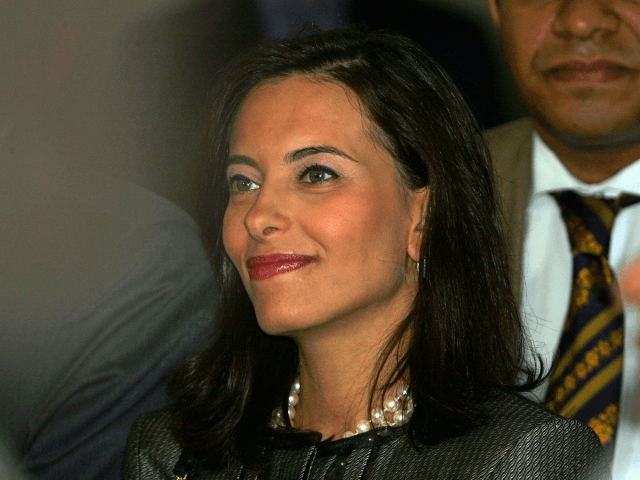 NEW YORK — In the midst of a public relations nightmare, former White House Deputy National Security Adviser Dina Habib Powell took charge of Goldman Sachs's global charitable foundation, helping to resurrect the big bank's shattered image after it was implicated in practices that contributed to the financial crisis of 2007-2008.
President Donald Trump confirmed on Tuesday that he is eying Powell as a contender to replace Nikki Haley as U.S. ambassador to the United Nations. Haley announced her resignation on Tuesday, saying she will officially leave her post at the end of the year. Trump said that he would name Haley's successor within two to three weeks.
With a reported salary of $2 million per year, Powell served as president of the Goldman Sachs Foundation, where she ran high profile projects in a Goldman effort described by the New York Times as "buying redemption" that sought to "polish" the firm's "reputation with ordinary Americans and politicians in Washington."
This at a time when Goldman was reviled by ordinary Americans for dealings that eventually led the firm to sign a $5.06 billion settlement with the Justice Department for the bank's shady conduct in the residential mortgage-backed securities market between 2005 and 2007.
After departing this White House last year, reportedly on good terms with the administration, Powell returned to Goldman Sachs, where she serves on the financial giant's management committee.
After the financial crisis, the firm was routinely derided in the news media. Rolling Stone labeled Goldman Sachs "a great vampire squid wrapped around the face of humanity, relentlessly jamming its blood funnel into anything that smells like money."
The settlement included a "a statement of facts" – essentially admissions of guilt – to which Goldman agreed. The Justice Department said the admissions showed that Goldman "made false and misleading representations to prospective investors about the characteristics of the loans it securitized."
Until about 2008, Goldman had been known for many things, but charitable giving was not one of them. Its foundation was first established in 1999 with a total endowment of $200 million. The New York Times described a debate that called for $350 million to be put in the charity's coffers, but Henry M. Paulson Jr., Goldman's chairman and chief executive at the time, chided that $200 million was "enough to make a difference."
That attitude shifted after the financial crisis began in 2007, when the foundation kickstarted major public initiatives led by Powell, an Egyptian-American, and massively increased its contributions. Still, even as Americans suffered, a significant portion of the foundation's efforts focused on global causes outside the U.S.
With Powell at the helm, the Foundation launched two major charitable initiatives, one called 10,000 Women and another named 10,000 Small Businesses. 10,000 Women aims to provide at least that number of women around the world with a business and management education to further economic opportunities and global financial growth.
10,000 Small Businesses, according to Powell's Goldman bio, "provides small business owners in the U.S. and UK with business education and access to capital."
10,000 Women was considered central to Goldman's efforts to polish its tarnished image. "Engaging wasn't just the right thing, it was necessary, especially in the wake of the financial crisis when people said we weren't doing enough," John F.W. Rogers, Goldman Sachs' chief of staff, told the New York Times of the company's charitable efforts.
Besides 10,000 Women, the 10,000 Small Businesses project also may have been launched in response to negative publicity about Goldman Sachs, the New York Times related in an article titled, "Goldman Sachs, Buying Redemption."
The newspaper reported:
In late 2009, the company faced mounting criticism about the billions of dollars it was paying out in bonuses in the wake of the financial crisis. The firm needed some good public relations. And fast. Goldman committed $500 million over five years to another program, 10,000 Small Businesses, which helps businesses in the United States and Britain. …

Both 10,000 Women and 10,000 Small Businesses are featured prominently on Goldman's Web site. Goldman has poured money into producing slick videos of graduates of the programs. …

Goldman is a firm that prides itself on discretion, but it isn't giving away its billions quietly. … "It's run as if it's a Broadway show," said one Goldman employee who asked not to be named because of a firm's policy against speaking to the news media.
The Times documented Powell's $2 million compensation stoked some "bitterness" among Goldman employees:
This has created bitterness among some employees — bitterness stoked by the favored status seemingly granted to Dina Powell, who runs the foundation. At a firm where pay is almost always tied to what money you bring in, Ms. Powell, who is in charge of giving money away, has made roughly $2 million annually in some recent years, according to people familiar with her compensation but not authorized to speak on the record.
Powell's financial disclosure form from her time in the White House last year revealed salary, benefits, cash bonuses and equity from Goldman Sachs totaling $6,128,950.
In 2011, Powell and her now ex-husband Richard dished out $3.85 million for a four-bedroom, 2,234-square-foot condo in the luxury Metropolitan building on East 90th Street in Manhattan designed by famed architect Philip Johnson. Richard Powell is president of Teneo Strategy, an arm of Doug Band's Teneo Holdings. Band, co-founder and president of Teneo Holdings, co-created the Clinton Global Initiative with Bill Clinton. Powell's 10,000 Women project partnered with CGI on numerous occasions, as Breitbart News thoroughly documented.
Powell joined Goldman Sachs as a managing director in 2007 and was named partner in 2010 in addition to her role as president of the Goldman Sachs Foundation. She headed the firm's Impact Investing business, where she was responsible for Goldman Sachs' "investments in housing and community development projects, deploying more than $5 billion in loans and equity investments to revitalize underserved communities in the U.S."
Globalist Giving
In 2008, 10,000 Women started a $30 million, five-year program to educate women in the African nations of Liberia, Nigeria and Zambia. The Clinton Global Initiative was a "commitment to action" partner in that effort, as well as another $2.5 million, four-year program launched in 2009 to "provide women entrepreneurs in Peru with quality business education and enhanced access to capital."
In the spring of 2011, Hillary Clinton announced in an auditorium at the State Department's headquarters that the State Department was partnering with the 10,000 Women initiative to help bring the program to more countries, with focus on Indonesia and Haiti.
At a luncheon in April 2012, Powell described how women from Pakistan were educated in the U.S. as part of the 10,000 Women partnership with Clinton's State Department.
Stated Powell: "We had our first graduation—this is a sticky situation—of this group from Pakistan on a Monday and it just so happened Melanne and I were going to speak at the Embassy of Pakistan and it happened to be the Monday after Osama bin Laden had been killed. So it was really interesting because here were these women who were just extraordinary, in the United States at the invitation of Secretary Clinton."
While women were out of work in the U.S., 10,000 Women and other groups used the Clinton Global Initiative's annual event in September 2013 to announce the launch of a $1.5 billion commitment to act for "global contract opportunities for women-owned businesses based outside of the U.S."
The Daily Beast spotlighted the 10,000 Women program in Afghanistan, which is run in conjunction with the Thunderbird School of Global Management. The Beast reported of the efforts: "Doing business in Afghanistan as a woman is complicated not only by security and logistics but also by traditional gender roles. Many women find they have to take on a male business partner as the meet-and-greet required by marketing products carry stigma for a woman—and possible danger."
Powell's 10,000 Women partnered with the Obama State Department again in 2015, when Secretary of State John Kerry joined Goldman Sachs Chairman and CEO Lloyd C. Blankfein to announce a new partnership between the State Department, 10,000 Women and the Harvard Kennedy School to train women in the Middle East and Northern Africa.
Goldman Sachs described the partnership in a press release:
The inaugural Goldman Sachs 10,000 Women-US State Department Entrepreneurship Program brings 29 entrepreneurs from the business, media, technology, social entrepreneurship and non-profit sectors to the US for a two-week program focused on entrepreneurship, leadership training, mentoring and networking to help them grow their business and create jobs. The program participants are from 15 countries, including Algeria, Bahrain, Egypt, Iraq, Jordan, Libya, Saudi Arabia, Kuwait, Lebanon, Morocco, Oman, the Palestinian Territories, Qatar, Tunisia and the United Arab Emirates.
Powell's 10,000 Small Businesses, meanwhile, focused in large part on the U.S. market, pledging $500 million to help small businesses in the U.S. recover from the recession. The Times saw the effort as an "apology from Goldman."
The newspaper summarized the Small Businesses initiative:
Under the plan, Goldman will provide $200 million to pay for small-business owners to get business and management education at local community colleges and other places — the first program will be at La Guardia Community College in Queens, New York.

The plan will also provide mentoring and networking services. Goldman said it had a long line of its own staff willing to take part.

And in a third prong of the program, Goldman is giving $300 million in loans and grants to small businesses. Some of the $500 million will come from $400 million in its foundation.
In 2013, Goldman expanded the 10,000 Small Businesses program to include businesses in all 50 states as opposed to just 15 markets.
Financial Crisis
When Goldman Sachs agreed to the $5.06 billion settlement, Acting Associate Attorney General Stuart F. Delery exclaimed, "This resolution holds Goldman Sachs accountable for its serious misconduct in falsely assuring investors that securities it sold were backed by sound mortgages, when it knew that they were full of mortgages that were likely to fail."
He added, "This $5 billion settlement includes a $1.8 billion commitment to help repair the damage to homeowners and communities that Goldman acknowledges resulted from its conduct, and it makes clear that no institution may inflict this type of harm on investors and the American public without serious consequences."
The settlement included a "statement of facts" to which Goldman agreed. The Justice Department said the statement shows that Goldman "made false and misleading representations to prospective investors about the characteristics of the loans it securitized."
One of many such statements included the admission by the firm that "Goldman received information indicating that, for certain loan pools, significant percentages of the loans reviewed did not conform to the representations made to investors about the pools of loans to be securitized."
Another admission of wrongdoing centered on Goldman's Mortgage Capital Committee, which was required to approve every residential mortgage-backed security (RMBS) issued by Goldman.
Goldman acknowledged that "the Mortgage Capital Committee typically received … summaries of Goldman's due diligence results for certain of the loan pools backing the securitization," but "despite the high numbers of loans that Goldman had dropped from the loan pools, the Mortgage Capital Committee approved every RMBS that was presented to it between December 2005 and 2007."
In 2011, an official U.S. government report documenting the causes of the financial crisis fingered Goldman Sachs for controversial practices that fueled the subprime mortgage bubble. The report was crafted by the Congressional Financial Crisis Inquiry Commission, which spent some 18 months investigating the factors that led to the crisis.
The government-sponsored report highlighted the major damage caused to the American public: "There are 26 million Americans who are out of work. … Nearly $11tn in household wealth has vanished. … The collateral damage of this crisis has been real people and real communities. The impacts of this crisis are likely to be felt for a generation."
While the report cast significant blame on the Federal Reserve for failing to reign in big banks engaged in high-risk mortgage lending as an institutional practice, Goldman Sachs was blamed for, as one Washington Post article paraphrased it, "providing billions of dollars in loans to subprime mortgage lenders and then bundling tens of billions of dollars in risky loans into investments."
Continued the Post:
At the same time, the report said, Goldman was involved in fancy financial engineering – the creation of investment products that let people speculate on whether mortgage investments would rise or fall in value. Goldman itself often bet against the investments it created and sold to others.
"These new instruments would yield substantial profits for investors that held a short position," the report says of Goldman's practices. "They also would multiply losses when housing prices collapse."
In other words, as the Guardian newspaper summarized it, Goldman Sachs "multiplied the effects of the collapse of sub-prime loans by funding and creating billions of dollars of bets based on the back of the loans."
The report criticized Goldman and other major investment banks for other highly risky investments.
One of the report's conclusions states:
For example, as of 2007, the five major investment banks–Bear Stearns, Goldman Sachs, Lehman Brothers, Merrill Lynch, and Morgan Stanley–were operating with extraordinarily thin capital. By one measure, their leverage ratios were as high as 40 to 1, meaning for every $40 in assets, there was only $1 in capital to cover losses. Less than a 3% drop in asset values could wipe out a firm. To make matters worse, much of their borrowing was short-term, in the overnight market–meaning the borrowing had to be renewed each and every day.
Even after the devastating report's release, Goldman has continued to come under periodic criticism, including from the inside. In March 2012, Greg Smith resigned his position as Goldman Sachs executive director and head of the firm's United States equity derivatives business in Europe, the Middle East and Africa by writing a scathing oped in the New York Times about the firm's alleged practices.
"To put the problem in the simplest terms," Smith wrote, "the interests of the client continue to be sidelined in the way the firm operates and thinks about making money. Goldman Sachs is one of the world's largest and most important investment banks and it is too integral to global finance to continue to act this way. The firm has veered so far from the place I joined right out of college that I can no longer in good conscience say that I identify with what it stands for."
Smith opined that the "decline in the firm's moral fiber represents the single most serious threat to its long-run survival."
He continued: "I attend derivatives sales meetings where not one single minute is spent asking questions about how we can help clients. It's purely about how we can make the most possible money off of them. If you were an alien from Mars and sat in on one of these meetings, you would believe that a client's success or progress was not part of the thought process at all."
Smith said he was made "ill" when pondering how "callously" Goldman Sachs employees allegedly "talk about ripping their clients off. Over the last 12 months I have seen five different managing directors refer to their own clients as 'muppets,' sometimes over internal e-mail."
Prior to joining Goldman Sachs, meanwhile, Powell served in the Bush administration as Assistant Secretary of State for Educational and Cultural Affairs (ECA). Democrats heaped praise on Powell at her confirmation hearings for the position. "You will have strong allies on both sides of the aisle," stated Democratic Senator Russ Feingold of Wisconsin, who notably was a regular critic of the Bush administration.
Before her State job, Powell, at the young age of 31, headed the Bush White House's Office of Presidential Personnel, where she led efforts to staff the Bush administration's more than 4,000 presidential appointments.
Powell is a fellow at the Council on Foreign Relations and until her appointment to the Trump administration served on the board of the globalist Center for Global Development.
Aaron Klein is Breitbart's Jerusalem bureau chief and senior investigative reporter. He is a New York Times bestselling author and hosts the popular weekend talk radio program, "Aaron Klein Investigative Radio." Follow him on Twitter @AaronKleinShow. Follow him on Facebook.
http://feedproxy.google.com/~r/breitbart/~3/ZCn_ICjMhus/