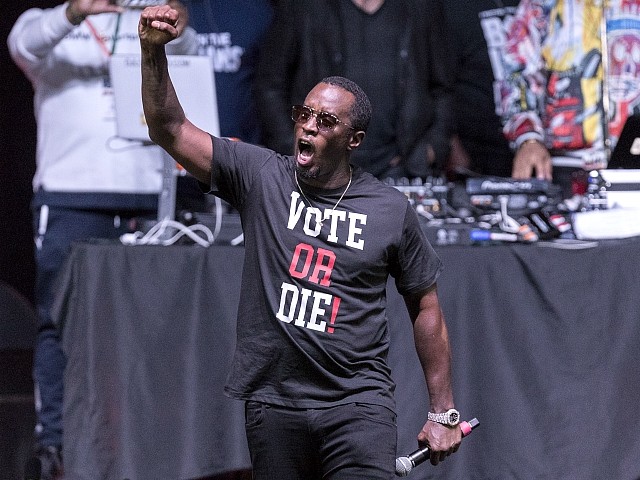 Hip-hop mogul Sean "Diddy" Combs took to social media Tuesday to issue an "emergency" plea encouraging fans to vote in the midterm election for the Democrat candidates in Georgia and Florida.
THIS IS A EMERGENCY MESSAGE TO THE CULTURE AND THE COMMUNITY!!!! THIS IS A EMERGENCY!!!!!!! Repost to the fuckin world right now PLEASE!!!! #VoteOrDIE pic.twitter.com/KCbhijHnrY

— Diddy (@Diddy) November 6, 2018
"I'm here to move ya'lls asses okay?" said the Grammy-winner in a one-minute video clip shared to Twitter. "Everybody down in Georgia, everybody down in Florida has not voted, I want you to run yo asses to the polls."
"I want you to drive, like, you [just] hit the lottery or something's important, or like, you're in danger," he continued. "If you're there by 7 o'clock, don't get out the line no matter what they tell you."
Diddy urged fans to cast their vote for Democratic gubernatorial candidates Stacey Abrams of Georgia and Florida's Andrew Gillum. "I'm tellin' ya'll. This is an emergency situation," Diddy said, before asking viewers to share the 11th-hour clip.
On Monday, Diddy and DJ Khaled hosted a midnight rally for Gillum at Florida A&M University in Tallahassee. The Bad Boy Records CEO released a video endorsing Gillum, stating that he was not only supporting the progressive candidate because he is African-American but "because he's the best man for the job."
"He's running a campaign for the people," the Bad Boy mogul said. "I've spoken to him at length. I believe in him, his focus, his ideas, what he stands for."
According to a St. Pete Polls survey released Saturday, Gillum leads Republican Ron DeSantis 46-48 percent, with a 1.9 percent margin of error.
http://feedproxy.google.com/~r/breitbart/~3/w21hlkTtRLU/