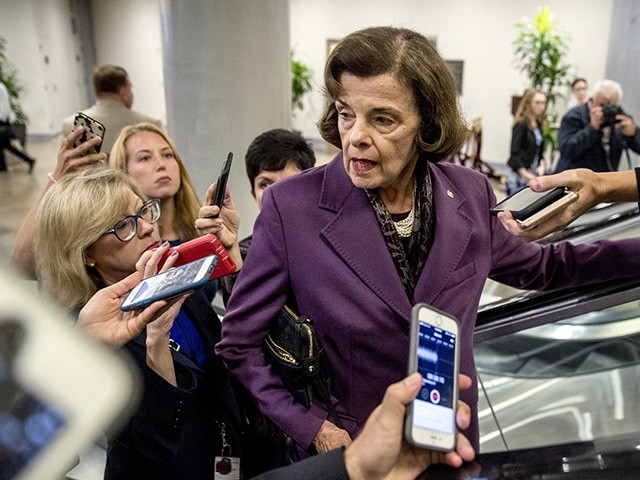 Sen. Dianne Feinstein (D-CA) said Tuesday she does not know if California psychology professor Christine Blasey Ford — who recently brought forth an allegation of sexual misconduct against Supreme Court nominee Brett Kavanaugh — will testify Thursday.
Asked whether she expects Ford to testify before the Senate Judicial Committee Thursday if outside counsel is slated to ask the accuser questions, Feinstein replied "I have no way of knowing" if she will show up.
NEW: Sen. Feinstein, D-Ca, just told me "I have no way of knowing" if Dr. Ford is actually going to show up to Kavanaugh hearing Thursday – if outside counsel is asking the questions

— Peter Doocy (@pdoocy) September 25, 2018
In a letter sent to Chairman Grassley Monday evening, Ford's attorneys criticized the panel's hiring of an "experienced sex crimes prosecutor" to partake in the testimony, suggesting the professor may renege on the agreement to appear.
"In our view, the hiring of an unnamed 'experienced sex crimes prosecutor' as Mr. Davis described in his email, is contrary to the Majority's repeated emphasis on the need for the Senate and this Committee's members to fulfill their constitutional obligations," wrote lawyer Michael Bromwich. "It is also inconsistent with your stated wish to avoid a 'circus,' as well as Dr. Blasey Ford's repeated requests through counsel that senators conduct the questioning. This is not a criminal trial for which the involvement of an experienced sex crimes prosecutor would be appropriate."
Feinstein's admission comes the same day that infamous "Creepy Porn Lawyer" and 2020 Democratic presidential hopeful Michael Avenatti locked his Twitter account after admitting an anonymous client may choose not to come forward with "credible information" regarding Kavanaugh.
"Let me be clear: We will disclose the client's name and accusations only when SHE is ready and we have adequate security measures in place. And not a moment before that," Avenatti wrote. "It is her choice and hers alone as to when to surface bc it is her life. We expect it within the next 36 hrs."
Soon after, replies began attacking the Resistance icon for hyping up an accusation that may never come to light. He has since hidden his Twitter profile from public view.
In an email to Mike Davis, Chief Counsel for Nominations for the Senate Judiciary Committee, Avenatti demanded the committee ask the nominee about the meaning of a caption in his yearbook, "FFFFFFFourth of July" — a code, the lawyer claims, meaning "Find them, French them, Feel them, Finger them, F*ck them, Forget them."
http://feedproxy.google.com/~r/breitbart/~3/B0KYbzADZcY/