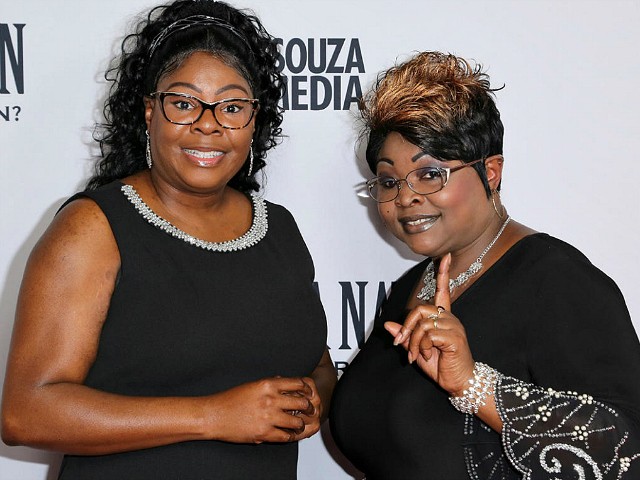 Political pair Diamond and Silk advised Kanye West to remain politically vocal, offering their comments in an interview with Breitbart News Deputy Political Editor Amanda House on SiriusXM's Breitbart News Sunday. They urged listeners to see their film, Dummycrats, premiering Monday.
The duo examined what they described as "left-wing media" trying to "smear and destroy" Kanye West following his White House meeting with President Donald Trump last Thursday.
Various news media figures for assorted outlets — including but not limited to CNN, MSNBC, ESPN, and ABC — derided West as mentally ill and unqualified to speak on political matters.
Diamond said, "When you look at what happened with Kanye, and how the left-wing media tried to smear [and] destroy him, you have to understand that they're using what we call Willie Lynch tactics to destroy his very existence."
Diamond continued, "When black people see [left-wing media] destroy [Kanye West], that puts them into silence and, then they don't want to walk off or run off that Democratic plantation."
LISTEN:
Diamond added, "When you look at what's happened to Kanye, the same thing is done to us. What they do is, they don't mess with a robotic talking head. They're upset with him because he's a truth-teller, and when you are a truth-teller they try to destroy your very existence.
Diamond recalled when she and her counterpart were derided as a "minstrel show" by Fox News Channel's Juan Williams: "Every name that they called him, they called us those same names," recalled Diamond. "It wasn't that long ago, a couple of weeks ago — maybe three or four weeks ago — that Juan Williams sat up on Fox News and called Diamond and Silk a minstrel show. So we're used to it."
Juan Williams who happens to be one of the Gate Keepers on the Democrat Plantation, just showed his true colors. This is what a Lowlife, Disrespectful, Racist Black Man looks like. Does he refer to his wife as a Minstrel Show?
Don't Come For Us, If We Didn't Send For You! #Envy

— Diamond and Silk® (@DiamondandSilk) September 13, 2018
Diamond advised West to use his detractors as fuel for perseverance: "This is something I know that Kanye may not be used to, but what I would advise him is the more they hate, the more he has to continue to educate. He has to understand it's going to be his haters that make him greater. So keep talking and don't stop talking. That's the problem. People want him to shut up. They want to sugarcoat the truth."
Diamond praised West's political comments: "I admire the fact that he's telling the truth about the daddies not being in the home and people got their hands out for food stamps."
Silk described the purpose of her and her partner's new film. "What we're doing is exposing the left for who they are," said Silk. "With everything that we've gone through in this country with Kavanaugh and Kanye West, we need a little laughter. I think that laughter is good for the soul, and we need that right before these midterm elections."
Watch the movie's trailer below:
Silk described the film as "educational," "fun," and "hilarious" with "some parts [that] may make you cry."
Silk noted the prevalence of poverty in Democrat-run cities:
A lot of time, you hear a lot of things about Democrats wanting to do this and that for the country, but if they can't even run their own districts, how can they run this country? When you go to look at a  lot of these Democrat-run districts, you see a lot of poverty-stricken districts [with] homeless. The Democrats are more concerned with illegal aliens than they are about Americans.
She added, "Democrats have done absolutely nothing for the black community but kept them in poverty. You have President Obama, he's a black, biracial president and his black side did absolutely nothing for black people but give them some food stamps and an Obamaphone and that's it. How can food stamps and an Obamaphone help people pay their bills? Because he sent jobs overseas."
Diamond praised Trump's economic policies while critiquing those of his predecessor.
Diamond stated:
Let's go back to the black president. What he did was give you, a few food stamps and an Obamaphone and told you to have a Coke and a smile and a nice day because the jobs weren't coming back. Now you have someone like President Trump, a businessman, come along and say, "I'm going to be the best jobs creator." And he's proven himself. Look at all the jobs that he's created. Look at the unemployment, especially among African-Americans at an all-time low. Home ownership is at an all-time high. Look at everything that's going on.
Diamond described increasing support for Trump among blacks as an existential threat to the Democratic Party.
"If Donald Trump has at least 36 percent of the black vote, and black people only make up 14 percent of the population here in the United States, the Democrats are done," assessed Diamond.
Breitbart News Sunday broadcasts live on SiriusXM Patriot from 7:00 p.m. to 10:00 p.m. Eastern.
Follow Robert Kraychik on Twitter.
http://feedproxy.google.com/~r/breitbart/~3/91_fGwM-K0A/