The United States "needs a bigger stick" to stop the inflow of Chinese-made fentanyl drugs, Homeland Defense secretary Kirstjen Nielsen said Thursday.
It is coming from China, we need to do more," Nielsen told Ohio GOP Sen. Rob Portman, who had just described the impact of Chinese-made fentanyl in his home state. Portman said:
We have an opioid academic. People don't know the role that fentanyl played — 4,000% increase in fentanyl overdose deaths. Now the number-one killer in Ohio. Relatively inexpensive to make synthetically. Most of it is coming from China. Most is coming through the mail system.
"We need a bigger stick," Nielsen later told Alabama's Democratic Sen. Doug Jones, adding:
We need to make it very clear we will not tolerate this … I don't have any evidence to provide to you that it state-sponsored. But I think given the [FBI] director's broad description of Chinese activities in almost everything that happens in their commercial sector, I would agree that is a strong possibility.
FBI Director Christopher Wray sketched out the growing threat from China, saying:
I'm reluctant to try to rank threats but I would tell you that I think China, in many ways, represents the most complicated, most long-term counterintelligence threat we face. Russia is, in many ways, fighting to stay relevant after the fall of the Soviet Union. They're fighting today's fight. China is fighting tomorrow's fight, and the day after tomorrow and the day after that, and it affects every sector of our economy, every state in the country and just about every aspect of what we hold dear.
Sen. Claire McCaskill, however, used the Senate hearing to argue that President Donald Trump's push for a border wall is a distraction, saying:
I think, honestly, I'll be candid here. There's been so much political attention around border security and in Americans' minds and the President's mind, he sees this as agents all across the southern border and there's been very little attention directed to this real vital need that we have. We are dying from this in record numbers all across my state. I talk to families every week, Madam Secretary, who have lost a child to fentanyl and the sad thing about it is we could do this. We know how. I can guarantee you that the director of the FBI can certainly tell you that we know how. We just have not put enough boots on the ground around this problem and part of that is because it's the shiny object over here of 'Are we securing the entire southern border?' I want to secure the border. I certainly do not want to shirk that responsibility but I want to do this in a way that's smart and addressing our country's needs.
Breitbart News has extensively covered the origin and political exploitation of the massive epidemic of deaths from fentanyl and other drugs during President Barack Obama's eight-year tenure.
Under Trump, however, Congress has passed a law to allow greater inspection of the packages being mailed from China and is stepping up federal prosecutions for the distribution of Chinese-made synthetic drugs, including. In August, Breitbart News reported:
[Attorney Gen. Jeff[ Sessions' DOJ has called for harsh penalties for extreme drug offenders, including the death penalty for the most serious cases. The attorney general released a memo in March citing the number of American deaths caused by overdoses from fentanyl and its analogues, urging prosecutors to consider the death penalty for cases where deaths occurred.

"Drug overdoses, including overdoses caused by the lethal substance fentanyl and its analogues, killed more than 64,000 Americans in 2016 and now rank as the leading cause of death for Americans under 50," Sessions explained in his memo.

"To combat this deadly epidemic, federal prosecutors must consider every lawful tool at their disposal," Sessions added. "In addition, this should also include the pursuit of capital punishment in appropriate cases."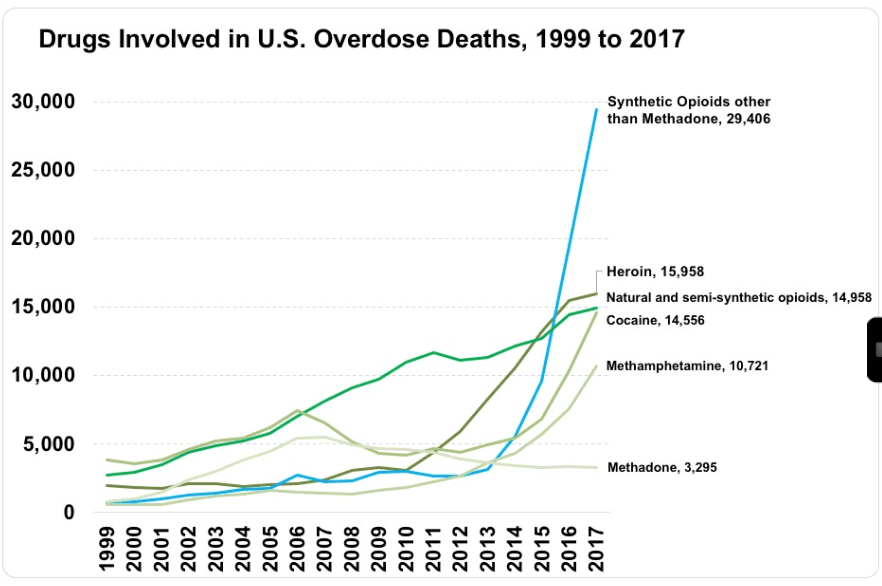 http://feedproxy.google.com/~r/breitbart/~3/51IHTZERj1M/