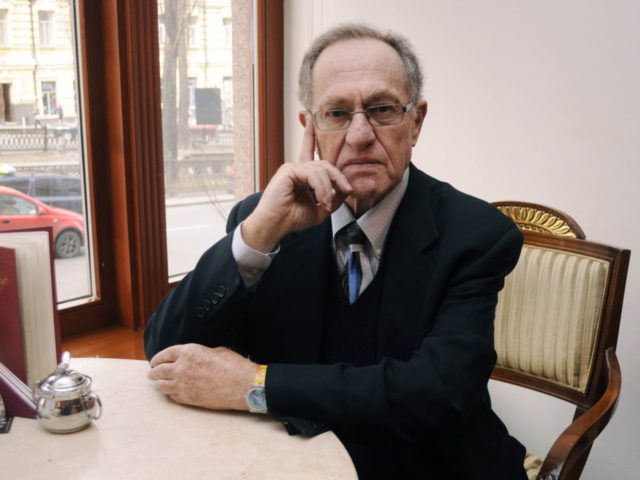 Harvard Law School emeritus professor and celebrated defense lawyer Alan Dershowitz told Breitbart News on Wednesday evening that the affidavit by Julie Swetnick, the third woman to accuse Judge Brett Kavanaugh of sexual misconduct in high school, "does not ring true."
Swetnick presented a sworn affidavit on Wednesday through her lawyer, Michael Avenatti — who is also representing porn star Stormy Daniels in her litigation against President Donald Trump, and is exploring a presidential run in 2020 himself.
"Any reasonably competent [defense] attorney could demolish her affidavit," Dershowitz said, noting that Swetnick had not explained what she meant when she alleged that Kavanaugh was "present" at her gang rape.
He also said that she had failed to explain why, if she had witnessed multiple gang rapes at parties among Kavanaugh's friends in Maryland, she had kept going back to the parties.
The affidavit looked as if it had been prepared in haste, Dershowitz said, as Avenatti likely realized he needed to publish it before Thursday's hearing before the Senate Judiciary Committee if it were to have any impact on the confirmation process.
(Kavanaugh is scheduled to testify, along with the first accuser, Christine Blasey Ford, whose claims have not been corroborated by any of the eyewitnesses she named.)
Swetnick had mentioned two eyewitnesses, Dershowitz noted, but had not named them. "Any lawyer should have been embarrassed to submit an affidavit like that."
He criticized the Republican majority on the judiciary committee, however, for selecting Arizona prosecutor Rachel Mitchell to lead questioning on Thursday. They should have named a defense attorney instead, he argued.
"What does a prosecutor know about cross-examintion? A prosecutor puts on a case."
Joel B. Pollak is Senior Editor-at-Large at Breitbart News. He is a winner of the 2018 Robert Novak Journalism Alumni Fellowship. He is also the co-author of How Trump Won: The Inside Story of a Revolution, which is available from Regnery. Follow him on Twitter at @joelpollak.
http://feedproxy.google.com/~r/breitbart/~3/W505N_F9Ejc/