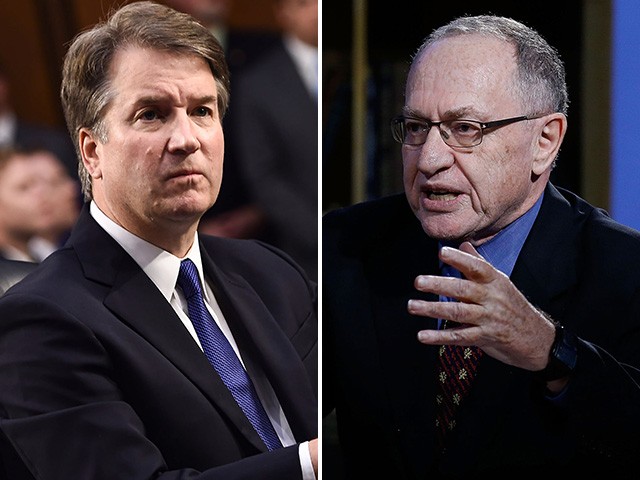 Harvard Law School Professor Emeritus Alan Dershowitz said Judge Brett Kavanaugh has a "core right to confront his accuser" Thursday morning.
Last week, Christine Blasey Ford, a California professor, accused Kavanaugh — President Donald Trump's nominee for the Supreme Court — of a "rape attempt" when they were both high schoolers in the 1980s.
Dershowitz, appearing on Fox News, weighed in on Sen. Chuck Grassley's (R-IA) offer for Ford to testify before the Senate Judiciary Committee, saying that Kavanaugh should have the opportunity to defend himself from concrete accusations that have been made under oath.
Dershowitz said, "I believe she has to show up on Monday. If she doesn't show up on Monday she has violated his core right to confront his accuser. If he shows up, what's he going to respond to? News reports? She has to go under oath."
Dershowitz noted an accused's right to challenge his or her accuser within America's justice system and broader Western legal history.
"She has to testify," Dershowitz said. "Nobody should be referring to her as a victim or him as a perpetrator until we hear from both of them under oath [and] subject to cross examination. There is nothing more essential to American justice than the opportunity to cross examine your accuser, to confront your accuser. It's in the Constitution. Essentially, it goes back to Magna Carta."
Dershowitz went on, "The idea that we're calling somebody a perpetrator and somebody else a victim based solely on he-said-she-said is just wrong, and it's un-American. She should testify. They should also call in [Mark] Judge and any other witnesses who were at the party, who claim they weren't at the party. Sure, let them broaden it beyond the two of them."
"Neither men nor women were born with a gene to lie or tell the truth. Women lie. Men lie. Women forget. Men forget. These are very emotional issues."
Dershowitz described the "Me Too" campaign as framing men accused of sexual improprieties and/or crimes as guilty until proven innocent.
"That's what's happened today with the Me Too movement," remarked Dershowitz. "In fact, in many respects, men are denied even the opportunity to prove their innocence. In colleges and universities today, it's enough for a preponderance of the evidence — that means 51 percent — that means 49 out of every 100 people accused on a college campus and convicted may well be innocent."
Follow Robert Kraychik on Twitter @rkraychik.
http://feedproxy.google.com/~r/breitbart/~3/o6jXbXhONLY/