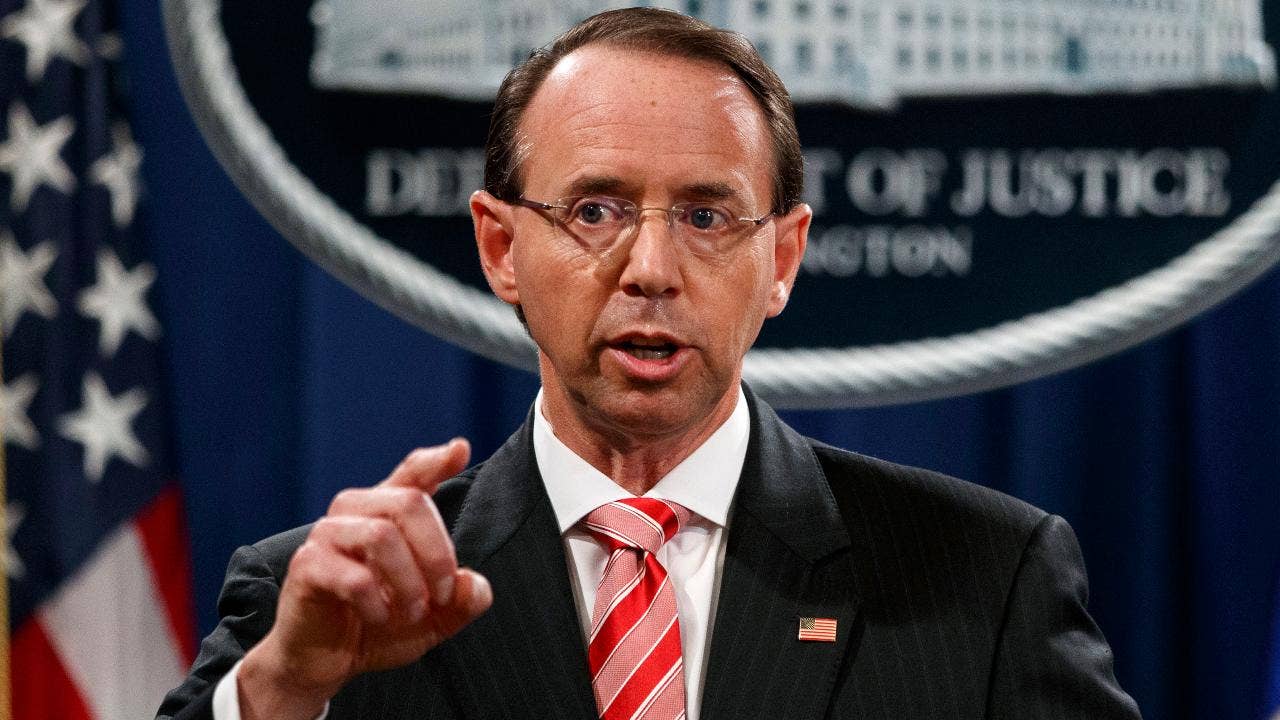 Deputy Attorney General Rod Rosenstein is heading to the White House expecting to be fired, sources tell Fox News, in the wake of a report that he suggested wearing a wire against President Trump and invoking the 25th Amendment to remove him from office last year.
Rosenstein — who oversees Special Counsel Robert Mueller's probe into Russia's interference in the 2016 election – has denied that bombshell report in The New York Times on Friday.
"The New York Times's story is inaccurate and factually incorrect," Rosenstein said in an earlier statement. "I will not further comment on a story based on anonymous sources who are obviously biased against the department and are advancing their own personal agenda. But let me clear about this: Based on my personal dealings with the president, there is no basis to invoke the 25th Amendment." 
In the wake of the Times report, Democrats have warned Trump not to remove Rosenstein. If Rosenstein were to leave office, U.S. Solicitor General Noel Francisco would be in line to oversee the Russia probe. 
The New York Times report said Rosenstein had discussed wearing a "wire" to tape Trump and pursuing his removal from office in meetings and conversations with Justice Department and FBI officials. This would have been in the tumultuous days after James Comey was fired as FBI director, with the president citing in part a memo penned by Rosenstein — reportedly catching him off guard. 
According to The Times, none of Rosenstein's proposals were acted upon and it remains unclear the level of seriousness Rosenstein had when making the suggestions.
One source who was in the room told Fox News the "statement was sarcastic and was never discussed with any intention of recording a conversation with the president."
Further, The Washington Post quoted an unnamed individual saying Rosenstein quipped sarcastically after McCabe pushed for an investigation into the president, "What do you want to do Andy? Wire the president?" 
The Times quoted other sources who said Rosenstein was serious, however. 
Rosenstein has been targeted by Republicans for months. In July, Reps. Mark Meadows of North Carolina and Jim Jordan of Ohio, the chairman and a prominent member of the conservative House Freedom Caucus, introduced five articles of impeachment against Rosenstein.
Those impeachment articles accused Rosenstein of intentionally withholding documents and information from Congress, failure to comply with congressional subpoenas and abuse of the Foreign Intelligence Surveillance Act (FISA). That effort was referred to the House Judiciary Committee, where it has not been voted upon.
Before named by Trump to serve as the No. 2 to Attorney General Jeff Sessions, Rosenstein served as the U.S. Attorney for the District of Maryland. Rosenstein took over the Russia probe after Sessions recused himself last year.
http://feeds.foxnews.com/~r/foxnews/politics/~3/IAkGflT9A5E/deputy-ag-rosenstein-heading-to-white-house-expecting-to-be-fired-sources-say.html