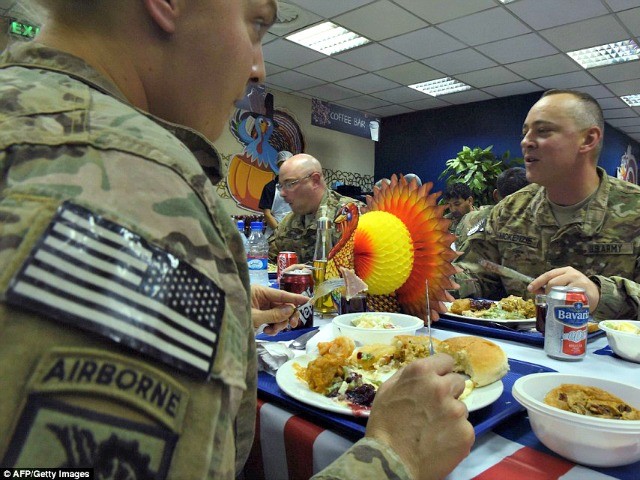 Troops deployed around the world, including in war zones, took a moment's respite from their efforts to keep America safe to film Thanksgiving greetings for family and friends back home in videos posted by the Pentagon.
"I just want to say Happy Thanksgiving to my wife, my two little boys, and also say happy birthday to my little boy turning three, and a shoutout to my mom and my sister, and loving what we're doing," said Army Sgt. Joe Brewster with the 87th Sapper Company deployed to Arizona to support the border mission.
Navy Cmdr. Chawn Brown, from Suffolk, Virginia, wished his family Happy Thanksgiving from aboard the U.S. Navy hospital ship USNS Comfort, which is on an 11-week medical support mission to help Central and South Americans.
"I would like to wish a Happy Thanksgiving to my beautiful wife Dana, my beautiful daughters Payton and Addison, and I am thankful to the patients who allowed us to care of them in South and Central America," he said.
"I'll like to say hi to my friends in family, they shall see us soon," said an unnamed U.S. service member stationed in Niger, where an terrorist ambush killed four American troops in October 2017.
"I'd like to wish all my family and friends and my boyfriend a happy holiday," added another unnamed U.S. service member stationed in Southwest Asia, which covers the Afghanistan war that has been raging for more than 17 years.
Some airmen deployed to Incirlik, Turkey, were surprised with taped messages from their families. They were told they were going to do "holiday shoutouts" to their families, and when they sat down to record, they were presented messages from their families. Some were moved to tears.
Surprise Thanksgiving Message https://t.co/sw9xDDTqu0

— Kristina Wong (@kristina_wong) November 22, 2018
Troops also gave shoutouts to their families from Djibouti, Iraq, Kuwait, Peru, Poland, and South Korea.
Some leaders visited troops overseas. Chief of Naval Operations Adm. John Richardson and the Master Chief Petty Officer of the Navy Russell Smith visited sailors in Naples on Tuesday.
And most importantly, many troops overseas had the opportunity to have a traditional Thanksgiving meal.
More than 300 Butterball turkeys made their way out to Doha, Qatar, this week, for U.S. troops serving in the Middle East.
"Being stationed here in Qatar I was worried," Air Force Master Sgt. Blue Etheridge, superintendent of the Joint Operations Center at Special Operations Command Central, told military journalist Sgt. 1st Class Tim Meyer.
"You see, we have a holiday tradition where we deep-fry our turkey every year for Thanksgiving and when we found out where we would be stationed we weren't sure we would be able to get a turkey," Etheridge said. "I cannot tell you how much it means for us to be able to have our traditional holiday meal."
Sailors in Naples, Italty, deployed without family shared a Thanksgiving meal with a ceremonial cutting of the turkey by Adm. James G. Foggo III, commander of U.S. Naval Forces Europe.
Troops also gave away free turkeys at military commissaries in Spangdahlem, Germany.
"It's an opportunity for our community to share and give back, especially during the holiday season when times can be tough, and we hope that providing these turkeys to families can help offset the cost of Thanksgiving dinner," said Air Force SMSgt. Shannon Williams, first sergeant of the 52nd Communications Squadron.
Troops in Spangdahlem also played "turkey-bowling" — with balls, not turkeys. Troops at Camp Lemmonier participated in a 5K run and a 3K walk.
Defense Secretary Jim Mattis gave his own shoutout to troops deployed and working on Thanksgiving last week during a trip to the border.
"I've got the troops deployed from Syria and Iraq to the Pacific. They're out in the Atlantic. You saw that we just finished one of the largest NATO exercises, and the troops have just — the ships have just pulled into our NATO ally, Portugal's port of Lisbon," he said.
"Rain or shine, light or dark, cold weather or hot weather — we have an all-weather force that's on duty 24/7," he said.
http://feedproxy.google.com/~r/breitbart/~3/0_SX3Skwz1M/