Democratic congressional candidate Mikie Sherill attacked those in New Jersey's 11th congressional district who disagree with her, saying in a mailer they should move to Arkansas.
The attack on the voters comes as President Donald J. Trump has fully endorsed Sherrill's GOP opponent Jay Webber via Twitter on Thursday, and marks one of the key battles Republicans face in their quest to "defy history" and hold onto a slim House majority in the midterm elections.
.@JayWebberNJ is running for Congress in the 11th District of New Jersey. He is outstanding in every way. Strong on Borders, loves our Military and our Vets. Big Crime fighter. Jay has my Full and Total Endorsement!

— Donald J. Trump (@realDonaldTrump) September 20, 2018
Trump's backing of Webber is a critical move by the president to try to hold onto a key New Jersey district that Democrats need to take to reinstall House Minority Leader Nancy Pelosi as the Speaker of the House with a Democrat majority in the midterms.
There are three key districts in New Jersey that are competitive and Democrats need to flip from GOP control to Democrat control to be able to hit their magic number of 24 net gains nationally on Nov. 6 and retake the majority in the House. This one, New Jersey's 11th district, is one of them.
New Jersey's seventh, where incumbent Rep. Leonard Lance (R-NJ) trails challenger Democrat Tom Malinowski by a small margin inside the margin of error in the latest poll out from Monmouth on Thursday, is another.
The state's third district, where incumbent Rep. Tom MacArthur (R-NJ) faces Democrat challenger Andy Kim and polling has shown the race as a key battleground bouncing back and forth, is another.
In the second district of New Jersey, the retirement of longtime Rep. Frank LoBiondo (R-NJ) has essentially handed one seat to the Democrats already, since polling shows the Democrat candidate for that district, state Sen. Jeff Van Drew, crushing Republican Seth Grossman, though it may turn around later in the game.
The 11th district is also marked by a GOP retirement, as longtime Rep. Rodney Frelinghuysen (R-NJ)–the chairman of the House Appropriations Committee and someone whose family namesake, Frelinghuysen, can be traced all the way back to the original founding fathers of the United States of America in the 1700s–announced his retirement in the race, opening the seat up for a contest between the Democrat Sherrill and Republican Webber.
That's where this latest mailer from the Sherrill campaign comes in. In it, Sherrill pushes standard leftist anti-Trump resistance talking points to attack Webber–arguing his support for the president's tax cuts plan, his opposition to abortion, and other conservative positions are not in line with the values of New Jersey.
"We need to keep Assemblyman Webber's dangerous agenda miles away from New Jersey," a stamp across the top of the mailer states.
But then, in the lower corner of the mailer ad is the state flag of Arkansas–a deep southern state. And on the other side of the mailer, it says in no uncertain terms that Webber's "agenda belongs here" with a photo of Arkansas and "not here" with a photo of New Jersey.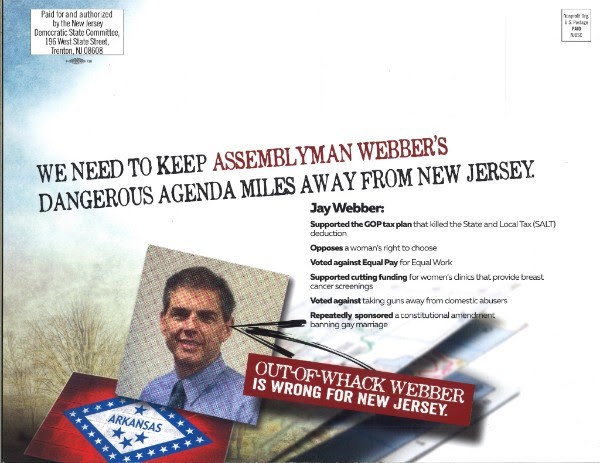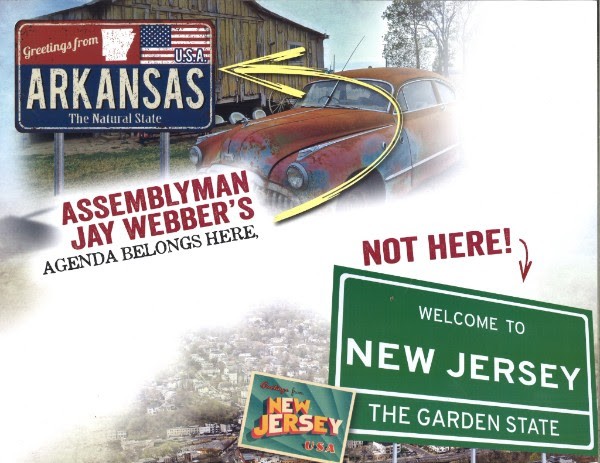 Webber and his campaign say the implication is clear: Disagree with Sherrill at your own peril, and face banishment to the deep south from New Jersey if you do. Webber said in a statement:
If this is how Mikie treats New Jersey neighbors who don't see eye to eye with her, how can we expect her to go to Congress and reach across the aisle to get things done for the country? Demeaning and belittling the people of an entire State is just wrong, and it's that mentality that is tearing our country apart.  Mikie should stop worrying about 'New Jersey values' versus 'Arkansas values.'  The only way forward for our country is to start thinking of our values as AMERICAN values.
Webber adviser Ronica Cleary added that Sherrill's mailer means she is attempting to enforce how people in the district think on various issues.
"Apparently Mikie Sherrill believes she is the self-appointed gatekeeper of the Garden State, sitting in her far-left bubble and suggesting that if we don't share her values, we should move to Arkansas," Cleary said. "Not only is that insulting to the people of New Jersey, it is also flatly insulting to our fellow Americans in Arkansas."
Cleary added that Sherrill's mailer's theme is in line with how former Vice President Joe Biden called supporters of President Trump "dregs of society" and how failed 2016 Democratic presidential nominee Hillary Rodham Clinton called Trump supporters "irredeemable" people in what she termed "the basket of deplorables."
"This sentiment is in line with Vice President Joe Biden's recent comments calling millions of Americans the 'dregs of society,'" Cleary said. "Biden has campaigned for Sherrill and the two are in lockstep with Hillary Clinton's condescending put-down of people who disagreed with her, calling us 'deplorables.' Mikie and her allies are showing their true colors: if you don't agree with them, they think you're not good enough and you're not welcome here.  I guess she forgets that President Trump won in this district, and that there are hundreds of thousands of residents of NJ-11 who don't share her extremely liberal views.  Should they all move to Arkansas too?"
http://feedproxy.google.com/~r/breitbart/~3/tvpeWjmQASU/