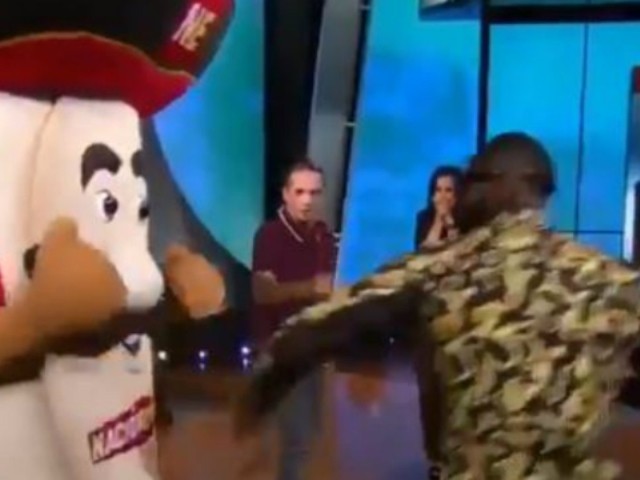 Heavyweight boxer Deontay Wilder has apologized for delivering a knockout blow to a TV mascot while appearing on Nacion ESPN last week.
Wilder, the "Bronze Bomber," was on the network to promote his upcoming Tyson Fury fight when he was invited to take a jab at a man in a giant mascot costume. But what was supposed to be a funny moment went awry when Wilder delivered a powerful blow that sent the mascot to the floor, according to the Daily Mail.
According to some sources, the man in the mascot costume suffered a broken jaw. And other sources even claimed that Wilder was unaware that a real person was inside the giant suit. But Wilder disabused people of that notion while apologizing if he hurt the man.
Wilder admitted on his Instagram account that he knew there was a real person inside the outfit, but praised the mascot actor saying that he was brave for being game for the stunt. He also invited the mascot to his next fight as a guest.
"Yea, Anything headlining I didn't know a 'Human Being' was in there is just straight 'Click Baiting,' Wilder wrote. "Like come on now, I guess the Mascot rolled out there. show so [sic] respect! I sincerely apologize to the brave man that was injured (if this is true)."
"I have the up most high respect for him, his participation, willingness and courage. If this is true Nacion ESPN I personally would like to invite him to my Dec.1 fight. Word Is Bond -CHAMP," Wilder concluded.
Wilder is set to face Tyson Fury on December 1 in Las Vegas.
Follow Warner Todd Huston on Twitter @warnerthuston.
http://feedproxy.google.com/~r/breitbart/~3/cEXCe157_lw/