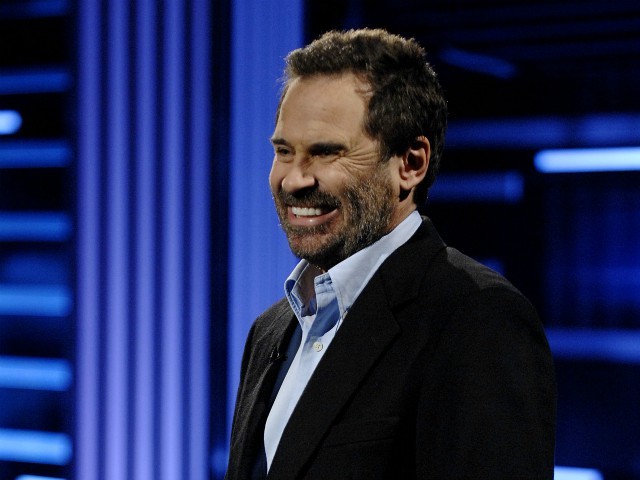 Veteran Hollywood actor and stand up comedian Dennis Miller joined SiriusXM host Alex Marlow Tuesday and dove deep into topics ranging from how President Donald Trump should attract black voters to the White House Correspondents' Association deciding to not allow a comedian to host its annual dinner.
"I think Trump is infinitely open to criticism, as all presidents are, but when they make it an incessant drumbeat, every day, where his wife's choice of outfit is the same as this comment about forest management, they wore people down, where they're either not hearing it, or they're just saying 'Enough, enough.'" Dennis Miller told Breitbart News' Alex Marlow.
Miller also said that he supported efforts to reform the criminal justice system in the United States and offered the president some tips to win over black voters.
"One thing I don't understand about Trump — I found him such an amiable bloke when he's out on the road. I don't know why Trump doesn't go to a big urban center and do one of these speeches in front of black Americans," he said.
"And if they heckle the first time, fine, do another one. Start to make some sense to them, you know, start to talk about, in Chicago, Baltimore, Detroit, New Orleans–I would tour each and every one of those cities, and I would take whatever slings and arrows they wanted to throw, I would be cool about it. And I'd say, all right, I will be back."
The 65-year-old comedian and longtime radio host also slammed CNN's White Reporter Jim Acosta as a "rude twit," but also said that Trump should stop using the term "enemy of the people" to refer to the media.
Miller also joked that President Trump should speak as both the comedian and the president at the White House Correspondents' Dinner.
"I think my ideal solution would have been, Trump should have said he'd like to attend as president, and the entertainer, and followed himself with two speeches. Right in the middle, after doing the president thing, he could say, 'Now, everybody have a bite of their sorbet, and I'll be right back, as the entertainer, or vice versa.'"
This is in reference to the announcement Monday that the iconic dinner will not book a comedian for next year, but instead a historian and author. Earlier this year, Michelle Wolf was the jokester, and used her appearance to attack Sarah Huckabee Sanders.
Miller's bi-weekly pop culture and politics podcast, The Dennis Miller Option, is available on PodcastOne.com and iTunes. Miller's most recent standup comedy special, Dennis Miller: Fake News, Real Jokes was released this week on Amazon, Apple, and Google Play. Miller is currently on tour. Find out more about his upcoming dates here.
Breitbart News Daily broadcasts live on SiriusXM Patriot 125 weekdays from 6 a.m. to 9 a.m. Eastern.
http://feedproxy.google.com/~r/breitbart/~3/sE9gp92oO_g/