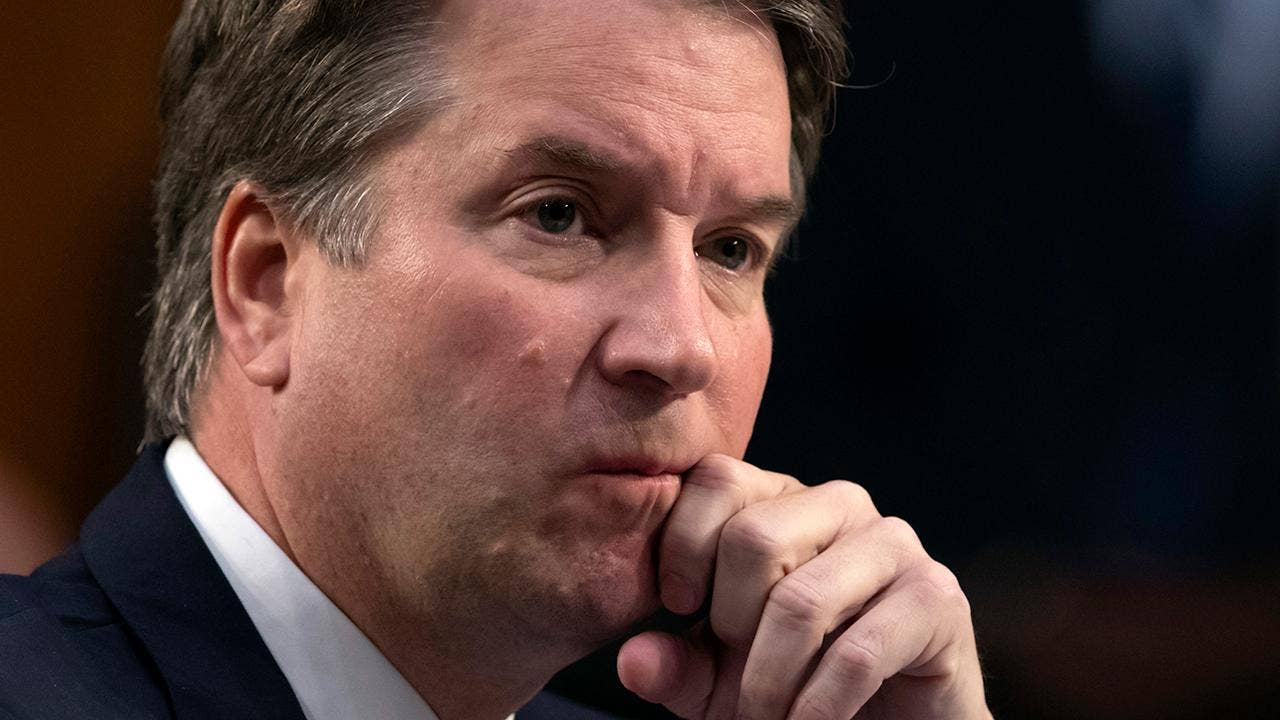 Democratic senators on Tuesday escalated their demands regarding a hearing to examine the sexual assault allegation against Brett Kavanaugh — suggesting Monday's scheduled public session with the Supreme Court nominee and his accuser is not enough, calling for more witnesses and more time for the FBI to dig into the allegations. 
Much remains up in the air, with the allegation threatening to sideline the nomination days before Kavanaugh was slated for a floor vote.
Right now, the FBI apparently is not investigating further despite Democratic demands. And it's not clear the hearing announced by Senate Judiciary Committee Chairman Chuck Grassley, R-Iowa, is even going forward. He scheduled a hearing for Monday, but said accuser Christine Blasey Ford has not responded to the invitation and threatened to nix the session if she doesn't. 
Ford alleges that in high school, Kavanaugh pinned her down, tried to remove her bathing suit and put his hand over her mouth when she attempted to scream. Kavanaugh denies it. 
But as Republicans try to navigate the 11th-hour bombshell, they're accusing Democrats of playing politics, by first sitting on the allegations and now making new demands regarding a hearing. 
In a letter Tuesday, Democrats on the committee said Republicans were "rushing forward" and said the FBI should first perform a background investigation as it did in 1991 when then-nominee Clarence Thomas was accused of sexual harassment by Anita Hill. Thomas was eventually confirmed.
"As you know, the FBI is not being asked to perform a criminal investigation; rather it is being asked to do an evaluation of the allegations as part of its review of Judge Kavanaugh's record," the letter said. "Like in 1991, this is an important step in providing the Committee the facts."
The Democrats also called for more witnesses to be questioned under oath, including Mark Judge, whom Ford identified as in the room during the alleged assault, and "others that might be identified through the FBI's investigation or subsequent due diligence by the Committee itself."
KAVANAUGH'S MOTHER IS JUDGE WHO DISMISSED A FORECLOSURE ACTION AGAINST ACCUSER FORD'S PARENTS
The same Democrats wrote to FBI Director Christopher Wray and White House Counsel Don McGahn requesting they reopen the background investigation.
President Trump, however, said Tuesday that he doesn't think the bureau should be involved "because they don't want to be involved."
He reiterated that he considers a "delay" in Kavanaugh's confirmation process to be acceptable, but complained that committee Ranking Member Dianne Feinstein, D-Calif., sat on the allegations for months — apparently because Ford initially did not want to come forward. 
"Why wouldn't you bring this up when he is sitting in her office for an extended period of time?" Trump asked. 
Feinstein, meanwhile, put out a statement underscoring there had been 22 witnesses at the 1991 Anita Hill hearing, pressing for more witnesses in this case. 
"What about other witnesses like Kavanaugh's friend Mark Judge? What about individuals who were previously told about this incident?" she said. "What about experts who can speak to the effects of this kind of trauma on a victim? This is another attempt by Republicans to rush this nomination and not fully vet Judge Kavanaugh."
The increased demands by Democrats are likely to feed into Republican claims that Democrats are using the allegation to slow-walk the nomination, as the party fights to regain control of the Senate in the midterms.
Senate Majority Leader Mitch McConnell, R-Ky., said on the Senate floor Tuesday that the Democrats "chose to play politics and keep [the accusation] secret through the entirety of Judge Kavanaugh's regular confirmation process."
"As my colleague, [Sen. John Cornyn, R-Texas] said yesterday, the blatant malpractice demonstrated by our colleagues across the aisle will not stop the Senate from moving forward in a responsible manner," he said.
But Senate Minority Leader Chuck Schumer backed his colleagues' calls for the FBI to reopen its background investigation and be given time to do so, saying otherwise it would be a "he said, she said" back-and-forth.
GRASSLEY SUGGESTS LAST-MINUTE KAVANAUGH HEARING COULD BE CANCELED IF ACCUSER DOESN'T ACCEPT INVITE  
"It will make the hearing far more valuable because once the members see what the witnesses have said to the FBI, they'll be able to ask much better questions," he said.
He said that senators and witnesses "need time to prepare testimony and senators who are not on the committee need time to review and consider that testimony once given."
"Let's call all the relevant witnesses, not just the two selected by Chairman Grassley, who did not want to call the hearings to begin with," he said. "Let's do this fair and full and right."
Sen. Orrin Hatch's, R-Utah, office accused Democrats of "moving goalposts" with their new demands.
"It is hard to take complaints about process seriously when Senate Democrats bottled up serious information until the most politically opportune time," his office said. "[Grassley] is doing everything he can to get to the truth and they keep moving goalposts.
Earlier Tuesday, Grassley said that his office had reached out to Ford and her attorneys several times, but had heard nothing back.
"We have reached out to her in the last 36 hours three or four times by email and we have not heard from them, and it kind of raises the question, do they want to come to the public hearing or not?" Grassley said on The Hugh Hewitt Show. He also said if Ford did not accept the invitation to testify, he saw no reason to hold a hearing.
In a statement, Grassley's office noted that the Democrats had not acted on the allegations "for more than six weeks" and said they did not join in on a bipartisan call with Kavanaugh on Monday.
Fox News' Alex Pappas and Chad Pergram contributed to this report.
http://feeds.foxnews.com/~r/foxnews/politics/~3/CKeHnPWF2C8/dems-make-new-demands-on-kavanaugh-hearing-as-republicans-cry-foul.html