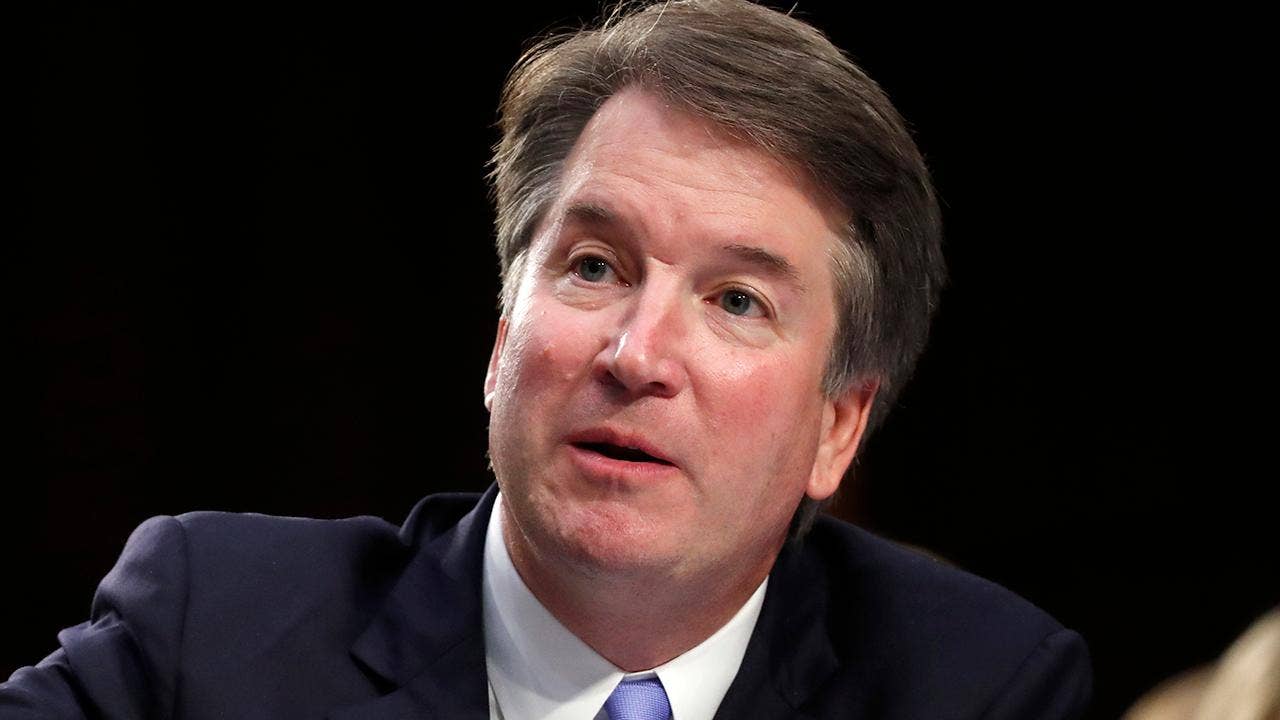 Amid a fiery Supreme Court confirmation hearing, Democrats have come under fire for spreading selectively edited video clips online of statements made by nominee Judge Brett Kavanaugh — and then standing by their interpretation despite the criticism.
Sen. Elizabeth Warren, D-Mass., tweeted out a video Tuesday evening of Kavanaugh speaking at Columbus Law School at the Catholic University of America in 2015.
"But fortunately we had a good saying that we've held firm to, to this day," Kavanaugh says in the video. "As the dean was reminding me before the talk, which is 'What happens at Georgetown Prep, stays at Georgetown Prep.' That's been a good thing for all of us, I think."
Warren denounced Kavanaugh's comments, which came in the wake of an allegation by Christine Blasey Ford, who says that Kavanaugh tried to sexually assault her in high school at a house party.
"I can't imagine any parent accepting this view," Warren tweeted. "Is this really what America wants in its next Supreme Court Justice?"
ELIZABETH WARREN SLAMMED OVER EDITING OF KAVANAUGH VIDEO 
But the clip, first unearthed by MSNBC, cuts out prior remarks by Kavanaugh showing that he is referring to three friends.
"I, by coincidence, three classmates of mine at Georgetown Prep were graduates of this law school in 1990 and are really, really good friends of mine," Kavanaugh said in a recording of the full speech, naming his friends.
"And they were good friends of mine then, and they are still good friends of mine as recently as this weekend when we were all on email together," he added. He then made the "what happens at Georgetown Prep, stays at Georgetown Prep" remark.
Conservatives criticized Warren, and other outlets who spread the unedited clip, for taking Kavanaugh out of context.
"For them, there's no time for context," The Washington Examiner's Becket Adams wrote. "There's a Supreme Court nominee to torpedo!"
Warren's remark comes shortly after Sen. Kamala Harris, D-Calif, came under fire from fact checkers for tweeting out a video of Kavanaugh appearing to describe some contraceptives as "abortion-inducing drugs" at his hearing.
The remarks came as he was describing a case involving the pro-life Priests for Life, who were challenging the ObamaCare contraception mandate.
KAMALA HARRIS, PLANNED PARENTHOOD SLAMMED FOR TAKING KAVANAUGH OUT OF CONTEXT ON BIRTH CONTROL REMAKRS 
"It was a technical matter of filling out a form in that case," he said. "In that case, they said filling out the form would make them complicit in the provision of the abortion-inducing drugs that they were, as a religious matter, objecting to."
But Harris tweeted out a video missing  the preface showing that he was summarizing the arguments of Priests for Life.
Harris accused Kavanaugh of choosing his words carefully and said, "This is a dog whistle for going after birth control."
"He was nominated for the purpose of taking away a woman's constitutionally protected right to make her own health care decisions," the tweet said. "Make no mistake – this is about punishing women."
Harris stood by her remarks, although she later tweeted out a fuller version of the video. But the claim drew fierce criticism not only from Republicans, but also from fact checkers.
"Did Brett Kavanaugh call birth control abortion-inducing drugs? No" read the headline of Politifact's fact check — which rated the statement "False."
The Washington Post's Glenn Kessler said that "it's pretty clear from the context that he was quoting the views of the plaintiffs rather than offering a personal view." He said that original tweet by Harris "was slightly mitigated" by the tweet offering fuller context, but still gave the claim "Four Pinnochios."
"She earns Four Pinocchios — and her fellow Democrats should drop this talking point," the fact check read.
But the claim was picked up days later by former 2016 presidential candidate Hillary Clinton, who accused Kavanaugh of using "a dog whistle to the extreme right."
That wasn't the only misleading statement made by Democrats during the confirmation process. Sen. Cory Booker, D-NJ, was widely mocked for dramatically claiming that he was releasing documents in defiance of Senate rules — only for it later to turn out that the documents had been cleared for release the night before.
'CONFIDENTIAL' KAVANAUGH EMAILS POSTED BY CORY BOOKER WERE CLEARED, DESPITE DRAMATIC CLAIM OF DEFYING RULES'
"I am going to release the e-mail about racial profiling and I understand that the penalty comes with potential ousting from the Senate," said Booker, a possible 2020 Democratic candidate for president, at the Senate Judiciary Committee hearing.
At another point, Booker said of his releasing the pre-approved emails, "This is about the closest I'll probably ever have in my life to an, 'I am Spartacus' moment."
Fox News' Lukas Mikelionis and Alex Pappas contributed to this report.
http://feeds.foxnews.com/~r/foxnews/politics/~3/ya7K3PjuWWE/democrats-under-fire-for-pushing-misleading-kavanaugh-videos.html