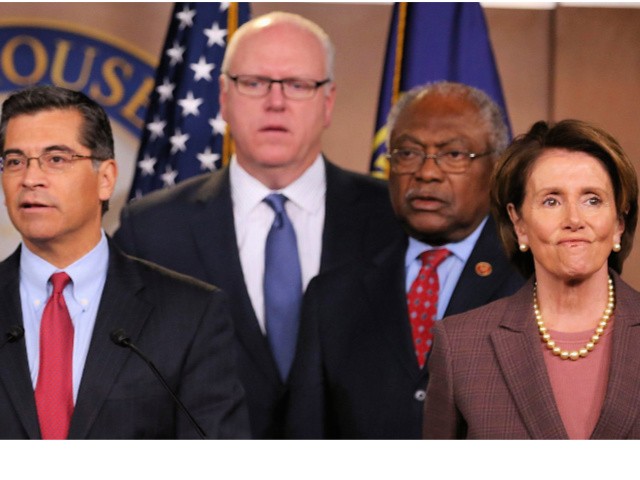 House Minority Leader Nancy Pelosi (D-CA) has tried to tamp down talk of impeachment ahead of the midterm elections, vowing to be less partisan if the Democrats retake the House.
"It's about bringing people together. It's not about – you know, people say, 'Well aren't you going to impeach the president, impeach whatever his name is [that] just went to the court?'" she told CNN on Monday. "I mean there's a bipartisan, shall we say, inevitability to impeachment, but it's not a – it's not something one party does."
However, some Democrats keep going off-script.
Rep. Adam Schiff (D-CA), the top Democrat on the House Intelligence Committee and a close Pelosi ally, is openly previewing the many investigations Democrats would launch into the Trump administration if they retake the House in November.
On October 11, he wrote an op-ed in the Washington Post, detailing all the investigations that would be launched, not just by the House Intelligence Committee, but other committees as well.
He said on the House Intelligence Committee, Democrats would revive the Russian collusion investigation. "There are serious and credible allegations the Russians may possess financial leverage over the president, including perhaps the laundering of Russian money through his businesses. It would be negligent to our national security not to find out," he wrote.
On the Oversight and Government Reform Committee, top Democrat Rep. Elijah Cummings (MD) wants to investigate "corruption issues, including whether Trump is profiting off the presidency," he said.
On the Judiciary Committee, Democrat Rep. Jerrold Nadler (NY) is "demanding oversight of potential abuse of the pardon power, attacks on the rule of law, and campaign finance violations," he said.
And Democrats on the Veterans' Affairs Committee would "want to make sure" that decisions are not made by Trump's "unelected cronies," he said. Schiff also criticized the current  Oversight Committee for not issuing subpoenas for the "myriad disturbing allegations of malfeasance and incompetence in the Trump administration."
"It's clear that we need a new majority that's willing to hold this administration accountable," he wrote. "We must do what the supine Republican Congress has failed to do over the past two years: restore Congress as an equal branch and check the ambition of an imperial and erratic president."
Just days later, other Democrats on the Intelligence Committee appeared to engage in damage control in an October 18 piece in The Atlantic, walking back the notion that investigations would be launched willy-nilly.
"If there are gaps that exist in the investigation, then we should fill them in. We don't want to focus on the politics of it, but this isn't going to be a dancing-in-the-end-zone investigation," Rep. Eric Swalwell (D-CA) said.
"There will be some decision making regarding a more selective examination" of certain areas of the investigation, Rep. Denny Heck (D-WA) said. "But that's a different thing from opening the whole investigation again."
The Atlantic's Natasha Bertrand noted in the piece:
Nancy Pelosi and Chuck Schumer, for example, have made uttering the 'I' word—impeachment—taboo within the party. The idea behind downplaying an aggressive investigation into a potential conspiracy between Trump and Russia should Democrats take back the House seems largely the same.
However, this week, Schiff was back to calling for more investigations.
On Sunday, he called for a new investigation into President Trump and his family's "financial motives" with Saudi Arabia. And on Tuesday, he told CNN that "when" Democrats take the House, he would investigate whether Russians were "laundering money through the Trump Organization."
Schiff is not a rogue Democrat, but influential within the party. The Los Angeles Times reported last week that he is among those that Pelosi has been "quietly" grooming as a potential successor.
But Schiff is not the only one going off-script. While some Democrat candidates are avoiding saying whether they would support impeachment, others are letting their true feelings be known.
"I do think there's enough there for impeachment. And if asked, I would vote on it, Texas Democrat Beto O'Rourke, who is running against Sen. Ted Cruz (R), said last week during a CNN townhall.
California Democrat Kevin de Leon, who is running against Sen. Dianne Feinstein (D), also said he would be in favor.
"I've always said from day one that I would move forward with impeachment," he said.
And some members appear to be openly defying Pelosi.
Rep. Al Green (D-TX) tweeted Tuesday: "We can either defeat or impeach an unfit president" — along with the hashtag #ImpeachmentIsNotDead along with #MidtermElections2018:
We can either defeat or impeach an unfit president. #ImpeachmentIsNotDead #MidtermElections2018

— Congressman Al Green (@RepAlGreen) October 23, 2018
http://feedproxy.google.com/~r/breitbart/~3/tgL6n7cTU98/