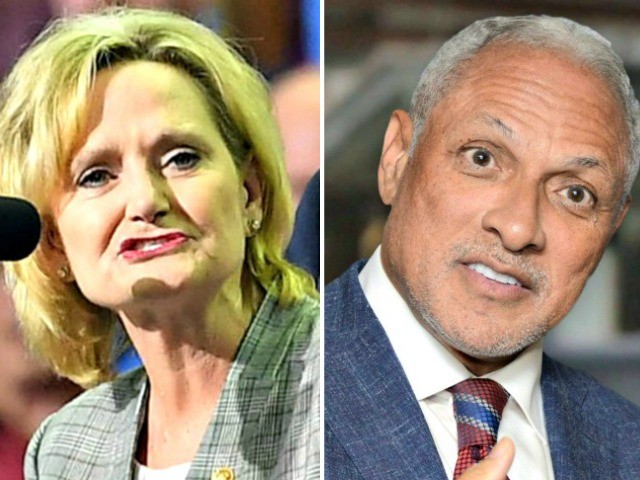 Democrats are going all out to win next Tuesday's runoff election for the Mississippi Senate seat in which incumbent Sen. Cyndi Hyde-Smith (R-MS) faces former Clinton administration cabinet official Mike Espy.
Sen. Kamala Harris (D-CA) was the first of several potential 2020 Democratic presidential contenders to travel to Mississippi to campaign on behalf of Espy.
On Saturday, Harris campaigned with Espy in Jackson, where "The two talked to voters about the need for better health care in Mississippi and equal pay for women."
Senator Harris explained Espy is the right person to move Mississippi in the right direction.

"There's a clear difference between the two candidates in this race. Mike Espy knows that pre-existing conditions have been the reason that people have not historically had access to health care," Sen. Harris said.
On Monday, Sen. Cory Booker (D-NJ) and Espy held an event at the University of Southern Mississippi in Hattiesburg.
Cory Booker to gathering on campus of the University of Southern Mississippi: "I believe in Mississippi. I believe in Mike Espy. I believe in America." pic.twitter.com/o7D9NUWmDI

— Vaughn Hillyard (@VaughnHillyard) November 19, 2018
Though President Trump easily won the state by 18 points in 2016, Democrats hope that a series of campaign missteps by Hyde-Smith, who was appointed by Gov. Phil Bryant in April to replace Sen. Thad Cochran (R-MS), who resigned for health reasons, will be sufficient to propel Espy to an upset victory next week.
Republicans, however, are not taking a Hyde-Smith victory for granted.
On Monday, President Trump will hold two rallies in the state, one in Tupelo, another in Biloxi.
The November 27 runoff election was set up by the November 6 general election in which neither Hyde-Smith nor Espy obtained the required 50 percent of the votes needed to win the seat outright.
Hyde-Smith received 41 percent of the vote, Espy received 40 percent, and Republican State Senator Chris McDaniel, who narrowly lost the 2014 runoff primary to Cochran, received 16 percent.
In the two weeks since that election, most of the money that has come into the election has come in opposition to Espy, as the Clarion Ledger reported:
National GOP heavyweights, business leaders and state political leaders have rallied around Hyde-Smith as the appointed U.S. senator seeks to make her temporary assignment a full-time post. Hyde-Smith has raised nearly $362,000 since the runoff, with notable donors including former Gov. Haley Barbour and Ken Kendrick, owner of the Arizona Diamondbacks baseball team. . .

Although Espy launched his U.S. Senate bid with a $100,000 self-loan, he proved his fundraising power in short time by raising more than $1 million in three months. What's more, he narrowly out-raised Hyde-Smith during the same quarter. Fundraising numbers show contributions to Espy have topped $370,000 since the runoff. Actress Chelsea Handler and former Massachusetts Gov. Deval Patrick are among the notable out-of-state contributors.

Outside spending since Nov. 6

Money spent supporting Hyde-Smith: $65,677
Money spent supporting Espy: $59,515
Money spent against Espy: $2.68 million
Money spent against Hyde-Smith: $507,900
Democrats are hoping that the November 27 runoff election in Mississippi will have the same outcome as the December 2017 special Senate election in Alabama, where Democrat Doug Jones pulled off a stunning upset over the Republican candidate, the embattled Judge Roy Moore.
In Alabama the entire Republican establishment abandoned Moore. In Mississippi this cycle, however, the Republican establishment is fully in support of Hyde-Smith.
With 99 of 100 Senate seats in the 116th Congress already decided, Republicans currently hold a 52 to 47 advantage. A victory next Tuesday in Mississippi will give them a 53 to 47 advantage, a net increase of two seats from the 115th Congress, where they enjoyed a 51 to 49 advantage.
http://feedproxy.google.com/~r/breitbart/~3/W4soXNZJ1rM/