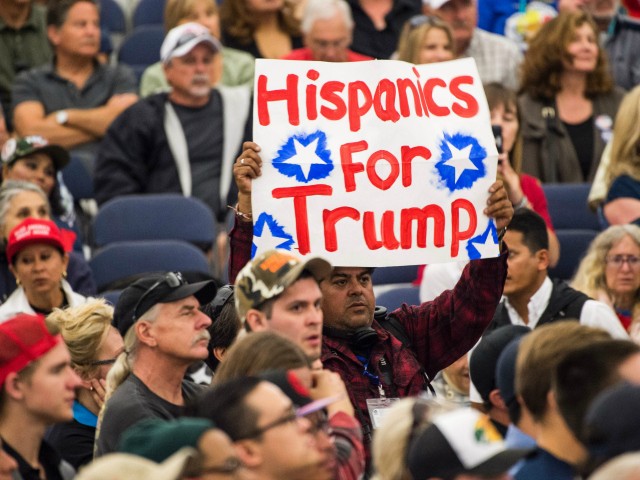 Democrats are worried that their bet on Latino voting-power is failing amid President Donald Trump's good economy, say media reports.
The Democrats' bet seems to be failing because most second-generation and third-generation Latino voters are ignoring the Democrats' racial-resentment pitch, and instead want to vote like other Americans: They primarily want to boost their jobs, families, schools, and neighborhoods, not fight other ethnic groups for a greater share of civic status and government aid.
"Hispanic voters were supposed to be the party's future. It's not working out that way," said the headline on a Slate.com article. The article continued:
The fact that Donald Trump is viewed in a relatively favorable light by as many as 1 in 4 Hispanic voters should be alarming for Democrats, but it's not even their biggest problem. That would be turnout … more eligible Hispanic voters have decided to stay home rather than vote in every election since 1996. To make matters potentially worse, more than 40 percent of potential Hispanic voters are millennials, another dispirited demographic.
"The majority of Hispanics are unhappy with Trump, with 65 percent of registered voters holding an unfavorable view of the president," says TheHill.com. But, the continued:
Democrats need that displeasure to translate into high turnout at the polls, and running on an anti-Trump platform alone is not enough, according to Democratic strategists, who say the top three issues for Latino voters are wages, immigration and health care costs …

In a July research memo from the House Majority PAC, a group focused on helping Democrats win House seats, 53 percent of registered Hispanic voters said they were "certain" they will cast a ballot in November, which raised some alarm bells in the party, though the figure has climbed since then.
A low turnout in November among Hispanics is expected given that Trump's color-blind economy has produced record-low unemployment for Hispanics and a record income-growth for Hispanics. The Wall Street Journal reported Sept. 12:
One demographic group stood out as American household incomes rose for a third straight year in 2017: Hispanics.

Median income for Hispanic households rose 3.7% in 2017, to $50,486, adjusted for inflation. That easily outpaced a 1.8% increase for all households, according to new census data released Wednesday.
The faster-than-average rise is due, in part, to the relatively large number of young Latinos who see rising income as they gain work experience in their 20 and 30s, and because of the reduced inflow of Hispanic unskilled illegal immigrants.
The Democrats' Latino problem is highlighted in Florida's 27th district, where a GOP Latino candidate is staying ahead of Donna Shalala, a former cabinet secretary for President Bill Clinton, and the former president of the University of Miami. According to the Miami Herald:
 Shalala, a Democrat running in a district that President Donald Trump lost by nearly 20 percentage points in 2016, is trailing Republican TV journalist Maria Elvira Salazar by 2 percentage points in a Mason Dixon-Telemundo 51 poll …

Salazar's unique background as a journalist in a party dominated by President Donald Trump and her appeal with older, Spanish-speaking voters has enabled the GOP to remain competitive …

"The numbers look good, they're great," Salazar campaign manager Jose Luis Castillo said. "She's focused on job creation, healthcare, the environment and education. These numbers really reflect that her message, her ideas and vision are continuing to resonate throughout with voters in District 27."
The data clearly shows that many Latino voters dislike Trump — but by smaller margins than Democrats need.
An October 7 poll by Morning Consult showed that 20 percent of Hispanics (and 26 percent of whites) strongly approve of Trump's performance, while 45 percent of Hispanics (and 41 percent of whites) strongly disapprove of Trump's performance.
The poll of 2,189 registered voters showed that 32 percent of Hispanics, and 20 percent of whites, say the economy is their top issue. Healthcare was the top issue for 13 percent of Hispanics and 17 percent of whites.
Democrats have pushed hard to portray themselves as the friendly towards Hispanic immigration as if Americans with Latino ancestors want to see more poor Mexicans and Central Americans settle in their neighborhoods and schools. But when asked about immigration, 30 percent of Hispanics (and 45 percent of whites) trust GOP legislators above Democratic legislators.
Also, 34 percent of Hispanics and 43 percent of whites say a border wall should be a priority. Forty-seven percent of Hispanics and 40 percent of whites say the wall should not be built.
In 2016, Trump won at least 28 percent of the Hispanic vote, despite media pressure on Latinos to vote as an ethnic or racial bloc. The ballot-box results showed that many Latinos vote like white Americans in the privacy of their voting booths, even as they publicly declare solidarity with foreign Latinos when they are asked pro-immigration questions in semi-public polls.
In 2014, for example, a skewed poll funded by Mark Zuckerberg showed that a huge majority of Hispanics told pollsters they favored the 2014 "Gang of Eight" amnesty. Yet the same poll showed that 78 percent of Latinos wanted "substantially increased security among US-Mexican border." Seventy-seven percent wanted companies to be required to check the work-eligibility of possible employees, and 76 percent wanted the federal government to track people who overstay their visas.
http://feedproxy.google.com/~r/breitbart/~3/Zpz8rkvEJCg/