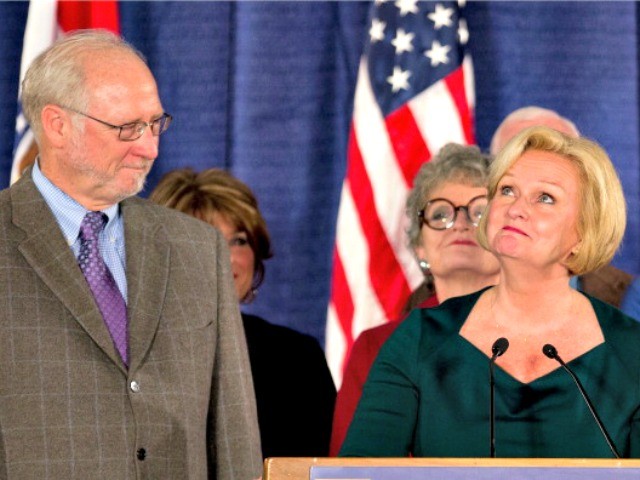 Missouri Democrat Sen. Claire McCaskill's husband is making news again as it is revealed he was accused of domestic violence by his ex-wife, according to Fox News.
A disturbing protection order filed by Joseph Shepard's ex-wife reveals that he allegedly hit her, tripped her, and even "peed on" her.
Shepard's domestic violence allegations date back to 1993 when Shepard's then-13-year-old daughter called the police to inform them her mother, Suzanne Shepard, was the victim of an assault, according to a police report. Shepard was the only person listed as involved and no charges were filed after the incident.
The police were dispatched back to the Shepard home in 1998. The police reported Suzanne claiming Shepard had come to the house to pick up a carpet and the two got into an argument over marital problems. The incident report states he "proceeded to grab her right arm and push her."
The occurrence between the two prompted Suzanne to file an adult abuse petition for an order of protection against Shepard.
"Police called by friend in my home. Joseph entered my home. I told him to leave," she wrote. "He came up to me looking angry. "I put my hands up to protect my breasts as they are sore (cancer). He has hit me before in the breast. He grabbed my wrist and arm and pushed me up against the wall & I hit my head & back & he bruised my arms by pinching me."
Shepard insisted that his wife was the one to get violent first.
"He said while he was attempting to load the [carpet] Mrs. Shepard began pushing him trying to get him out of the house," the police report stated.
The filed protection order  against Joseph Shepard also recalled previous incidents of alleged abuse.
"I am afraid of respondent and there is an immediate and present danger of abuse or stalking of me. He has tripped me, hit me before (police were called by my daughter), punched my cancer breast, peed on me, pushed me down and slapped me," she stated in the report.
"He now threatens that everything I have is his and I will end up in his low-income housing and he wants to take my things," she added.
Joseph Shepard also made headlines this year after it was revealed that he makes millions by flipping government tax credits.
Shepard's company, the Missouri Tax Credit Fund, operates as part of the Low-Income Housing Tax Credit (LIHTC), a $9 billion a year federal program that awards tax credits to those building qualifying affordable housing projects.
The LIHTC program utilizes developers in need of cash to attract investors for housing projects by offering tax credits.
McCaskill's disclosures show her husband earned over $1 million from the Missouri Tax Credit Fund for 11 consecutive years from 2007-2017, making a total of $11 million.
http://feedproxy.google.com/~r/breitbart/~3/7zYTT7SfI8g/