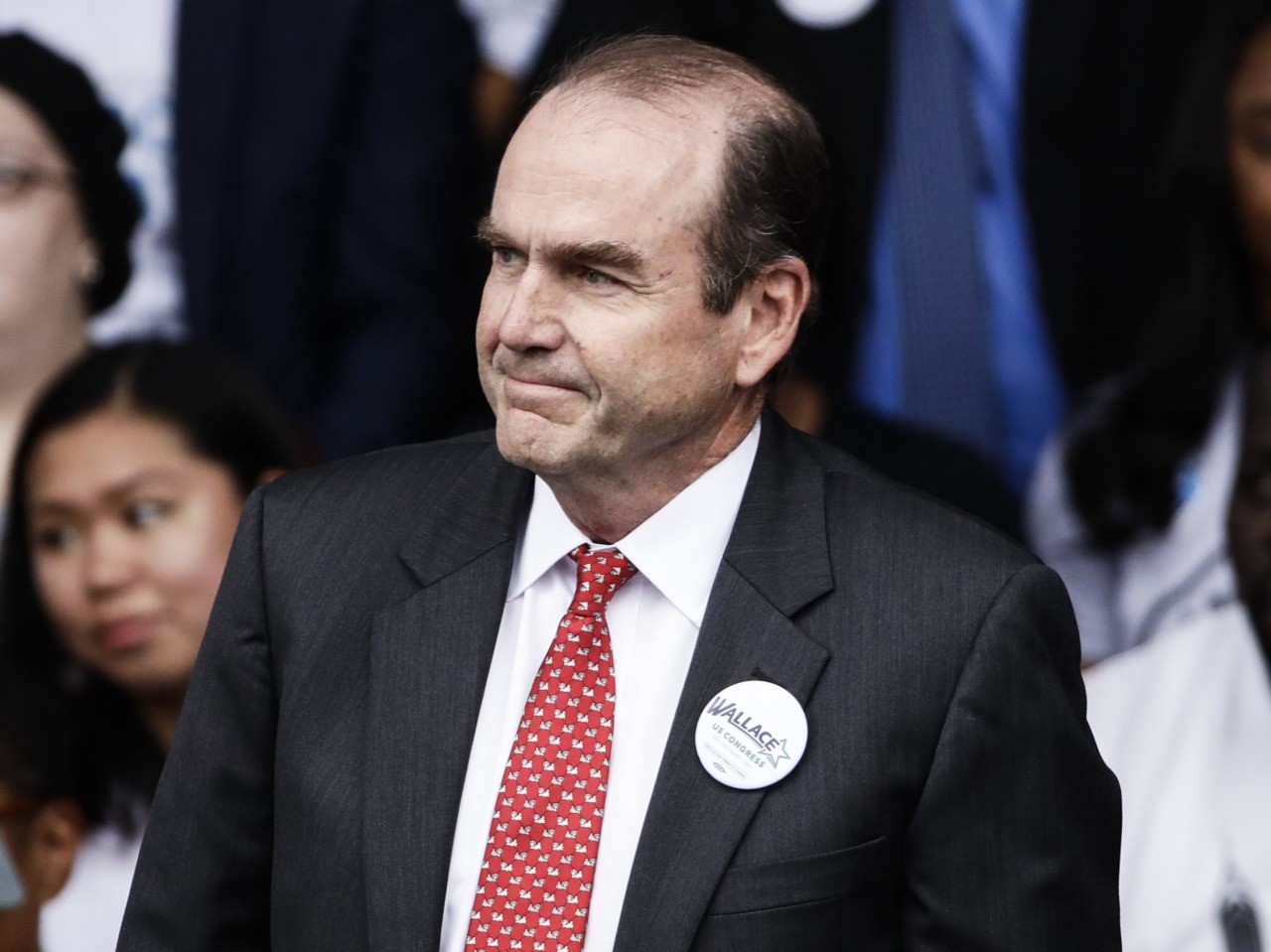 Democrat Scott Wallace cursed during a debate in a synagogue against incumbent Rep. Brian Fitzpatrick (R-PA) in Pennsylvania's 1st congressional district Sunday, dropping the "f-bomb" from the stage, considered a sacred space.
Local WBCB News reported:
As the political climate continues to heat up, challenger Scott Wallace lost his cool during a debate with Congressman Brian Fitzpatrick. Sunday night at the Congregation Tifereth Israel in Bensalem, Wallace used an expletive and "dropped an f-bomb" in front of those attending.

"Ironically, there was a later question about the need for civility in politics," Fitzpatrick told WBCB. "Well, a good start is to not use vulgarities in the sanctuary of a synagogue in the middle of a congressional debate."

The sign outside the Congregation Tifereth Israel in Bensalem. Photo by Matt Mirro.
Both candidates were standing on the synagogue's 'bimah,' an elevated platform used for reading the Torah during services, when Wallace used the expletive. The outburst silenced the room, and Fitzpatrick was "stunned" Wallace made the comment.

In addition to Fitzpatrick, people in the synagogue and the moderator took exception with Wallace's obscenity.
Wallace apparently used the f-word when Fitzpatrick challenged his facts on whether Fitzpatrick had voted to take away health insurance coverage from people with pre-existing conditions. (The Washington Post gave Wallace's ad "four Pinnochios" — its worst rating — because Fitzpatrick voted to preserve coverage for pre-existing conditions.)
He later apologized, according to WBCB.
Wallace has offended Jewish sensibilities before — at least, pro-Israel ones. After the Forward — a left-leaning outlet — revealed that Wallace's family foundation had donated $300,000 to radical groups advocating anti-Israel policies, a prominent local Democratic Jewish group withheld its endorsement. (It changed its mind when Wallace had "become educated" on the issue to its satisfaction.)
The Republican Jewish Coalition (RJC) launched an ad in June attacking Wallace's positions on foreign policy issues, including the Iran deal:
The RJC and other local Republican leaders reacted to Wallace's f-bomb on Sunday via Twitter:
Frustrated at being confronted about his false ad that fact checkers have called him out on, @ScottWallacePA drops "F" word at debate with @BrianFitzUSA at Synagogue Tifereth Israel in front of shocked crowd. #PA01 https://t.co/UBbGtByUdT

— RJC (@RJC) October 22, 2018
Can't believe that @scottwallacepa dropped an F-bomb in a Synagogue during a debate tonight with @brianfitzusa. Unhinged. #PA01

— David Gibbon (@1DGibbon) October 22, 2018
@ScottWallacePA issued a non-apology apology, blaming @BrianFitzUSA who called Wallace out for lying.

Fitzpatrick asked you to name the specific bill and you responded by cursing out a Member of Congress.

Scott Wallace, you sir are a complete disgrace.https://t.co/GuW69E0XNF

— Benjamin Rothstein (@B_Rothstein_) October 22, 2018
The 1st district is rated a "toss-up" by the Cook Political Report. Breitbart News has listed PA-01 as one of twenty key House races to watch in the midterm elections, noting that Fitzpatrick had a narrow lead in recent polling.
Joel B. Pollak is Senior Editor-at-Large at Breitbart News. He is a winner of the 2018 Robert Novak Journalism Alumni Fellowship. He is also the co-author of How Trump Won: The Inside Story of a Revolution, which is available from Regnery. Follow him on Twitter at @joelpollak.
http://feedproxy.google.com/~r/breitbart/~3/0SLq5pSGm-E/