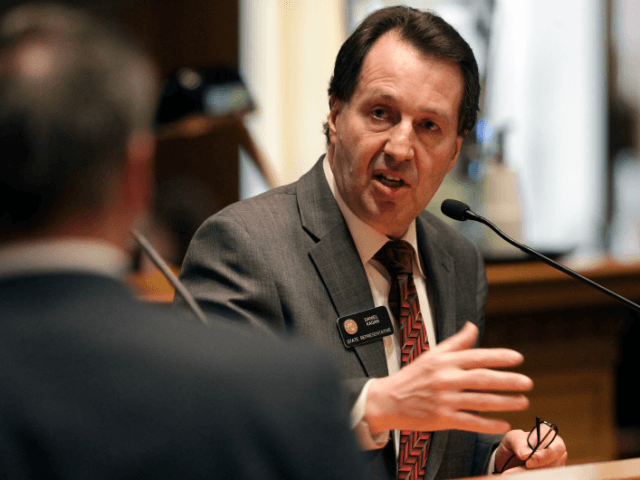 A Democrat in Colorado's state legislature accused by his female colleagues of frequenting the women's restroom while at work in the statehouse is stepping down from his position.
Colorado Democrats confirmed Wednesday that state Sen. Daniel Kagan would be departing the Colorado legislature on January 11, right after Democrats take control the Colorado Senate for the start of the next term.
"It's been a great honor to serve the people of Colorado for just short of a decade," Kagan said in a statement. "An important obligation of leaders, I believe, is to be open to acknowledging that it's time to pass the torch to new leadership and, for me, that time is now."
The Democrat lawmaker did not address the reason for his departure after serving two years of his four-year term in his statement.
Female state Senate Republican lawmakers, including state Sen. Beth Martinez Humenik, claimed they witnessed Kagan entering the women's restroom on multiple occasions since January 2017.
Humenik filed a complaint against Kagan in March for sexual harassment in the workplace.
Kagan claimed that he only entered the women's restroom once because an unlabeled restroom caused confusion. After the bathroom debacle caused a stir, the state Senate posted signs on its restroom showing a difference between "men" and "women," KUSA reported.
Despite Kagan's claims and his subsequent resignation, Humenik says she is not taking Kagan's resignation as an "apology" for his actions.
"I asked for a public apology to all involved, not a resignation," Humenik said Wednesday. "We are still waiting on his apology."
Even though Kagan resigned from his position over harassment allegations, he was part of a group of Democrats who called for the resignation of Republican state Sen. Randy Baumgardner, who had been accused in 2016 of groping a staffer.
When Kagan took the floor the state Senate at the time, he tried to explain the legal definition of sexual assault, noting that "many butt-slappers and thigh-strokers fancy that they are merely flirting and flattering."
http://feedproxy.google.com/~r/breitbart/~3/ciqHlWHlzXk/