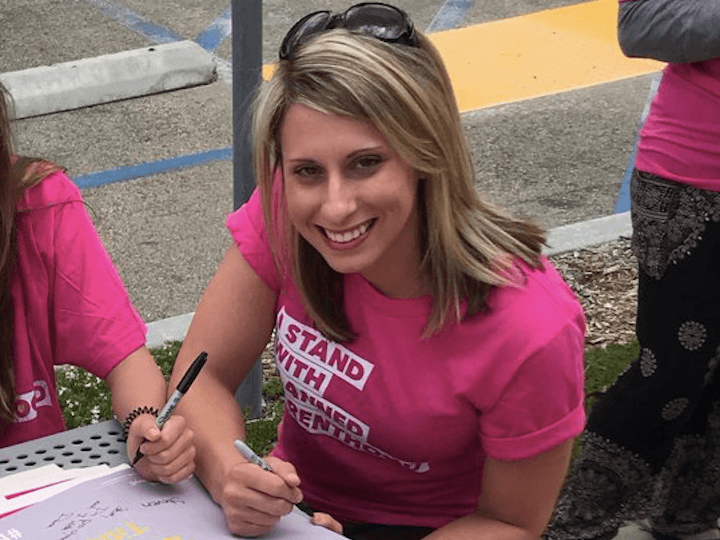 Democrat candidate Katie Hill committed a potentially serious gaffe on Saturday when she admitted that she had not learned about the Cemex issue — arguably the most important issue in California's 25th congressional district — until recently.
Hill is challenging incumbent Rep. Steve Knight (R-CA) in a race that Democrats are targeting because the district chose Hillary Clinton over Donald Trump in 2016, despite also re-electing Knight to Congress.
In the debate, hosted by the the Santa Clarita Valley Signal, Knight touted his work on the mining issue, which involves a sand and gravel mine in Soledad Canyon owned by Cemex that locals have opposed strongly for nearly two decades. In August — thanks, in part, to lobbying by Knight — the U.S. Bureau of Land Management canceled the mine's permits. Locals were surprised and delighted, Knight noted, though Cemex is appealing the change.
Knight noted Cemex was the "number one priority" of the district. Calling himself the "local congressman," he added: "We don't go to Washington, DC, to find an issue so that we can work on some big Washington, DC, issue. We actually talk to the city council and the members of the community to fix something there. Now, for the last 24 years, Cemex has been the number one issue. Absolutely, anyone in Santa Clarita would say that."
Hill responded: "Congressman Knight keeps saying that Cemex is the number one issue. And I hate to say it, but that's not the case for most people I know. And I think that Cemex is an important issue, of course, but it's something that I hadn't even heard of, until relatively recently, and it's certainly something that my parents, my friends, my family hadn't heard of."
Oddly, Knight had tweeted — once — about the Cemex issue in March 2017.
#CA25 is a hotbed of enviro threats(Santa Susana, Aliso, CEMEX, Chiquita Canyon) EPA cuts are the last thing we need https://t.co/s8AyjST9GE

— Katie Hill (@KatieHill4CA) March 23, 2017
One of Hill's most important issues recently has been opposing the confirmation of Judge Brett Kavanaugh to the U.S. Supreme Court, calling him a "serial sexual predator." Hill herself was caught on video by HBO's Vice making a sexual joke at the expense of one of her campaign staffers. When asked, she refused to apologize for the joke.
Joel B. Pollak is Senior Editor-at-Large at Breitbart News. He is a winner of the 2018 Robert Novak Journalism Alumni Fellowship. He is also the co-author of How Trump Won: The Inside Story of a Revolution, which is available from Regnery. Follow him on Twitter at @joelpollak.
http://feedproxy.google.com/~r/breitbart/~3/xXG-ZkXDC4M/