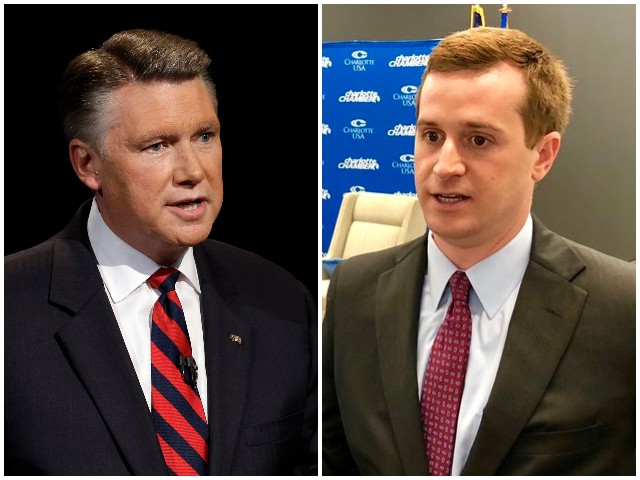 North Carolina Democrat Dan McCready announced on Thursday that he would withdraw his concession in the state's ninth district congressional race amid an investigation into alleged election fraud.
"Today, I withdraw my concession to Mark Harris," McCready said in a tweet on Thursday. The North Carolina Democrat called on his Republican opponent, pastor Mark Harris, "to tell the American people exactly what he knew and when he knew it."
I didn't serve overseas in the Marines to come home to NC and watch a criminal, bankrolled by my opponent, take away people's very right to vote. Today I withdraw my concession and call on Mark Harris to end his silence and tell us exactly what he knew, and when. pic.twitter.com/2hcT00DVhQ

— Dan McCready for NC (@McCreadyForNC) December 6, 2018
The Democrat's withdrawal comes weeks after he conceded to Harris following the 2018 midterm elections. McCready trailed Harris by 905 votes in the race to replace the outgoing Rep. Robert Pittenger (R-NC). Harris defeated Pittenger during the district's Republican primary earlier this year.
McCready's announcement comes as North Carolina election officials continue to investigate potential allegations of electoral fraud and other voting issues related to absentee ballots.
Allegedly the probe centers on an unusually high number of absentee ballots in Bladen County, North Carolina, as well as canvassers who gathered votes from several voters.
The North Carolina State Board of Elections signaled that it will hold a hearing on the allegations by December 21 and might decide if they will certify the election, call a new election, or take another course of action.
North Carolina Republicans and Democrats continue to fight over how to investigate the allegations of election fraud. Three Republican state senators, who represent parts of North Carolina's ninth district, asked North Carolina Democrat Gov. Roy Cooper on Thursday to create a bipartisan task force to investigate claims that a contractor working for Harris illegally urged people to collect absentee ballots. Meanwhile, Democrats accused Republicans of undermining the existing investigation into the allegations.
"Over the last week, we have seen the criminal activity come to light, and we have seen that my opponent Mark Harris has bankrolled this criminal activity," McCready told Charlotte, North Carolina, television state WSOC-TV on Thursday.
Rep. Nancy Pelosi (D-CA), who will likely become the next Speaker of the House, said on Thursday that she will continue to watch the investigation.
Pelosi pointed out that "the House still retains the right to determine who is seated" and said that if lawmakers object to Harris being seated, "we'll see how that goes."
"This is bigger than one seat," Pelosi added. "This is about undermining the integrity of our elections, and what was done there was so remarkable and that those entities got away with it, even to the detriment of Republicans in the primary."
http://feedproxy.google.com/~r/breitbart/~3/DPEjIErOygo/