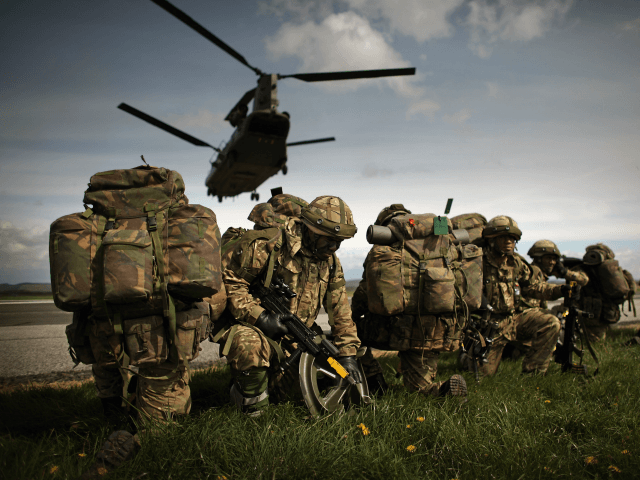 Sooner or later there is going to be a mutiny in the British Army.
As exhibit a) I present this essay  — titled "The Army Needs More Feminists" — by some brown-nosing major, presumably written with a view to ingratiating himself with his PC superiors.
'The Army Needs More Feminists'. Intrigued? Read our latest #Leadership Insight by Maj Tim Towler available for you to read now. https://t.co/2bFWuiliBj #MondayMotivation pic.twitter.com/r3TbAJrNML

— British Army Centre for Army Leadership (@Army_Leadership) October 15, 2018
As exhibit b) I present this video of a bunch of squaddies protesting at the fact that one of their ex-comrades has been chucked out of the Army for the 'crime' of posing for a selfie with Tommy Robinson.
They can't discharge us all!

Quality lads 👌#IAmSoldierX #SoldierX #StandWithOurLads #TommyRobinson pic.twitter.com/NoSkF18sd0

— Robby Tominson #IAmTommy (@RobbyTominson) October 17, 2018
Mutiny is not something you associate with the British Army and its proud traditions of discipline and loyalty to the Crown. But I see after a quick search that there was one as recently as 2013 when 16 soldiers of the Yorkshire Regiment were court-martialled for "disobeying a lawful command" after staging a sit-down at a parade.
Their complaint — apparently in response to an unpopular captain and colour sergeant — was that they were being "led by muppets."
Since that incident, the number of muppets in senior positions in the Army has increased exponentially.
Hence, for example, the toe-curling recruitment ad the Army released earlier this year showing soldiers on exercise in the mountains pausing reverently, mid-patrol, to observe a Muslim comrade ritually wash himself in a stream, whip out his prayer mat, don his prayer hat and bow down in prayer. "Keeping my faith", the ad was titled.
I'm sure whichever muppet thought up the idea for this stupid ad would have loved that "Army Needs More Feminists" essay I mentioned at the beginning.
Here is a taste:
A Good Time To Be A Girl is not a title that will immediately draw soldiers to grab this book off the shelf. Ashamedly, I would not have read it a couple of years ago. Perhaps it is this shame that is forcing me to write now, or, the shame that previously I might not have acted when I should have done; a guilt knowing that I have let objectifying and discriminatory comments go by unchallenged in the past. As an infantry officer, my experience of working with women is limited, a poor excuse, but my recent roles alongside diplomats and business leaders have been a turning point. They have opened my eyes to some of the challenges and biases that still exist and have made me feel empowered and duty bound to act. I had not considered feminism a leadership issue before, but if 2 leadership is truly about enabling others to succeed, then feminism (and diversity more broadly) is critical. Embracing diversity, standing up for what is right, and maximising everyone's potential is vital to leading at all levels, and especially to leading through change.
After that, it gets worse. Much worse. Apart from being badly written ("Ashamedly"??), it is simply not the kind of wheedling, breast-beating milquetoastery one would expect of an officer charged with defending Britain from her myriad enemies.
What, in heaven's name, is this pantywaist pillock doing reading feminist tracts anyway? Surely, if he's going to be remotely effective at his job, he should be reading Clausewitz. Or Sun Tzu. Or Churchill. Or Napoleon. Or, if he's not up to those, tattered copies of War Picture Library and Commando.
That essay — or, more to the point, the fact that the Army's PR department felt it was worth boasting about on Twitter — embodies so much of what is wrong with Britain's armed forces. (And the United States's, and Australia's and the rest — for they're all susceptible to the same social pressures): their emasculation and near-ruination by political correctness.
This rampant PC is causing huge damage to Army morale (not to mention operational effectiveness) and may go some way to explaining why the Army is having such problems attracting new recruits.
After all, who wants to sign their life away for a minimum of four years service if it's going to entail endless lectures from Ruperts on the vital importance of racial sensitivity and the valuable contribution to society made by women? You join the Army to be the best, prove your manhood and see the elephant. Everything else is for the birds.
At the weekend, I attended a panel event on this very subject at the Battle of Ideas. It was called The Military: Muscle or Mindfulness — and one of the panelists was an obviously very pissed off ex-soldier called Beverley Henshaw. She clearly had no truck with all the New Age, touchy-feelie nonsense which her superiors think is the way forward. She wanted the Army to get on with its core business: defending the realm and — I'm guessing — killing the nation's enemies.
A senior officer on the panel — Lt Gen Sir Simon Mayall — clearly sympathised with this view. But when I asked which of the top brass were to blame for the Army's cuckolding he was too politic to name names. (I'm told privately that the rot goes right to the top with Sir Nick Carter, the Chief of Defence Staff, who apparently can't get enough of all this PC stuff. He was educated at Winchester, the school which traditionally trains all our diplomats to suck up to and sell out to foreigners, so that explains a lot.)
The problem, of course, is that the people who get to the very top of the military tend to be creatures of the Establishment. And the current political Establishment, as we know, right now, is very, very squishily PC and excruciatingly risk averse.
This would explain the Army's massive overreaction when some of the squaddies posed for photos with Tommy Robinson. The Army felt compelled to issue the following statement:
Far-right ideology is completely at odds with the values and ethos of the armed forces. The armed forces have robust measures in place to ensure those exhibiting extremist views are neither tolerated nor permitted to serve.

Anyone who is in breach of the army's values and standards will face administrative action.
But this says more about the Establishment's prejudice than it does about who the real Tommy Robinson is or what he stands for. He is only "far right" or "extremist" in the Guardian sense of "anyone to the right of Jeremy Corbyn". But it suits the Establishment — led by his arch nemesis Theresa May — to pretend that Tommy Robinson is representative of some terrible far-right threat to Britain. In this, he performs the function of Emmanuel Goldstein in Orwell's Nineteen Eighty-Four – as the state's officially designated hate figure on whom everyone can pour their righteous scorn in order to show their virtue and cement societal solidarity.
Ordinary people aren't buying this. They just can't see what's wrong with a working-class lad making a fuss about all the Muslim gangs which, over a period of twenty years or more, have been raping the girls in mostly working-class areas. Also, they think he's right to stand up for our troops and right to express his disgust when those troops come back from active service in hellholes like Afghanistan and Iraq only to be jeered at by the kind of jihadist sympathisers who, given half the chance, would be blowing up little girls at pop concerts or massacring kufar in shopping malls. They know what Britain's enemies look like — and they don't look like Tommy Robinson.
Since it's ordinary people from whose ranks Britain's soldiers are mostly recruited you can see why there's a problem. The Army's Top Brass are where the rest of the Establishment are: terrified of doing anything that might upset the Religion of Peace; painfully eager to give the Army some kind of post-conflict-era relevance as an agency for diversity and gender outreach and mindfulness. And the squaddies are all thinking: sod this for a game of soldiers — I didn't join the Army for this bollocks.
Does anyone normal blame them?
http://feedproxy.google.com/~r/breitbart/~3/j5IT8JxsF7Q/