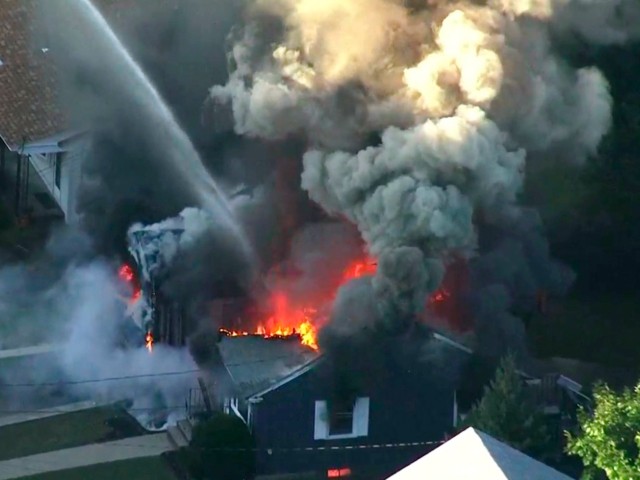 Leonel Rondon, 18, is the first death confirmed after multiple gas line explosions rocked several Massachusetts towns.
Rondon was killed when a chimney broke loose during the explosions, falling onto his car. He had only just acquired his driver's license, and his family described him as "excited about life." His uncle, Carlos Rondon, told the Washington Post "he was too young, too young to die. He was just starting his life."
At least 20 others have been injured by the blasts in the towns of Lawrence, Andover, and North Andover, according to reporting by Fox News. At least 13 of them have been taken to Lawrence General Hospital. So far, only one patient has required special care at a Boston trauma center, according to the hospital. Other injuries include smoke inhalation and "blast trauma."
At this hour, Lawrence General has received 13 patients as a result of the gas fires. One critical patient was transported to a Boston trauma center, the rest have been treated at Lawrence General. Injuries range from minor to smoke inhalation and blast trauma.

— Lawrence General (@LawrenceGenHosp) September 14, 2018
"If you have not evacuated, you have to go. Don't wait for there to be a fire. Trust us when we tell you, if you stay in your homes, you are at risk," said Lawrence Mayor Dan Rivera. "Get out of your house and go north of the river."
Just before the explosions began, Columbia Gas informed residents that it would be "upgrading natural gas lines in neighborhoods across the state" in the interest of increased reliability and safety for its customers. Now they have said that they are "working with the appropriate authorities to investigate this incident in order to understand its cause."
In the meantime, the company has urged individuals not to "enter your house unless you are accompanied by a gas company representative." They will need to visit each of the 8,600 affected customers and test their gas for safety before it is safe to return home.
National Transportation Safety Board chairman Robert Sumwalt said they are investigating the matter and "looking at the design of the pipeline system, any maintenance or upgrades that are in the process of being done."
http://feedproxy.google.com/~r/breitbart/~3/CLbdRpTmdqM/