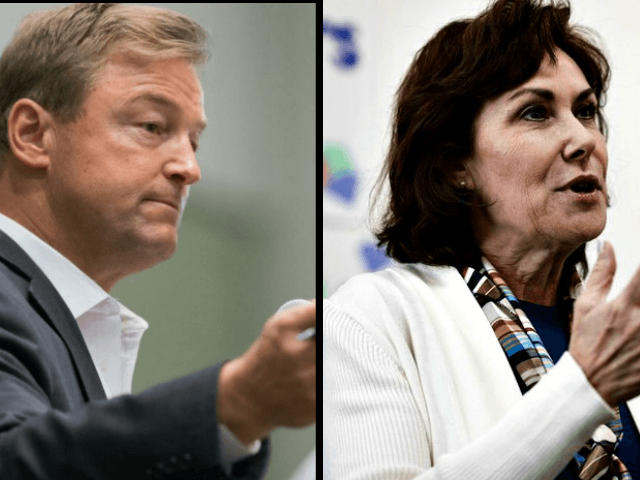 Republican Sen. Dean Heller leads Democrat challenger Jacky Rosen by 47 to 45 percent in a NYT Upshot/Siena College poll released Thursday.
Heller is seen by Democrats as vulnerable after holding his seat by just one point in 2016 in a state that Hillary Clinton won. The New York Times reported that seven percent of the 642 Nevada voters were either undecided or refused to answer whether they would vote Heller or Rosen.
Four organizations cited in the report rank the race as a "tossup." Each candidate has raised close to $10 million in contributions. Other recent polls listed show Heller and Rosen with no more than a five point margin between them.
The poll found that if modeled after the type of voters who turned out in 2014, the last midterm election, Heller comes out seven points ahead. When modeled after those who turned out in 2016, the poll favored Rosen by four points. Ultimately the survey determined that Heller came out two points ahead in the survey, which had a "margin of sampling error on the overall lead" at eight points.
Respondent demographics included a slight majority of females to males, 71 percent identified as white, 54 percent were 30 to 65-years-old, and 74 percent participated via cell phone versus land line. 
The poll offered various results weighted "by age, party registration, gender, likelihood of voting, race and region, mainly using data from voting records files compiled by L2, a nonpartisan voter file vendor."
When weighted by "census data instead of voting records," Heller still came out ahead of Rosen by two points. When not weighted by eduction, as the poll noted was done by many 2016 polls, Heller still came out two points ahead. When not weighting for party registration, Heller came out three points ahead.
Nearly equal percentages of respondents approved and disapproved of the job President Donald Trump is doing, 48-49, respectively. Nearly equal percentages of respondents wanted to see Democrats in control of the U.S. Senate or wanted to see Republicans in control, 48-47, respectively. And respondents were nearly equally divided between two options for governor.
Michelle Moons is a White House Correspondent for Breitbart News — follow on Twitter @MichelleDiana and Facebook
http://feedproxy.google.com/~r/breitbart/~3/aRCqFO_9Buc/