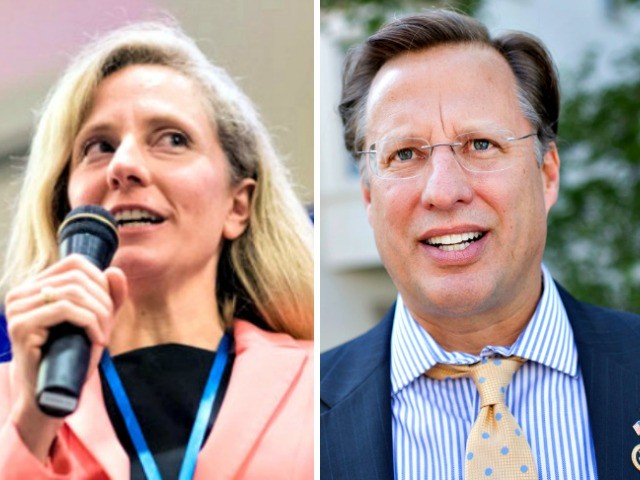 Rep. Dave Brat's (R-VA) Democrat opponent in the 2018 midterm elections, Abigail Spanberger, worked for a Saudi-funded Islamic school known as "terror high" after the September 11, 2001 terrorist attacks.
Between 2002 and 2003, Spanberger taught at the Islamic Saudi Academy, funded by the government of Saudi Arabia.
Her joining the Saudi-funded school as an English literature teacher came just one year after al-Qaeda Islamic terrorists killed thousands of Americans by hijacking planes and flying them into the Pentagon in Washington, D.C. and the World Trade Center in Lower Manhattan. 
In an exclusive interview with Breitbart News Political Editor Matt Boyle, Brat said the fact that Spanberger would work for such an institution is an issue of judgment. 
"When she was a teacher, she was teaching at this radical Islamic school," Brat said of Spanberger. 
"It turns out, a year after 9/11, [Spanberger] went to work for a Saudi-funded Islamic school that has been dubbed 'terror high' that it was so bad in every sense, their curriculum, the school itself, funded by the Saudis, fundamentalists, anti-Semitic, anti-Christian, anti-American, anti-woman, etc," Brat said. "The issue is the judgment. Who would go to a Saudi school like that to go to work for that school?"
For years, the high school has been dubbed "terror high," as Brat mentioned, as many former students and school officials have either been convicted of terrorism or been suspected terrorists.
In 2001, two graduates of the Islamic Saudi Academy were denied entry into Israel after they were accused of being suicide bombers. Also, in 2004, former school employee Ismael Selim Elbarasse was arrested on suspicion of aiding a potential terrorist attack and was accused of working closely with the political wing of Hamas, a Palestinian terrorist organization. 
http://feedproxy.google.com/~r/breitbart/~3/YmDkhhRIxlI/