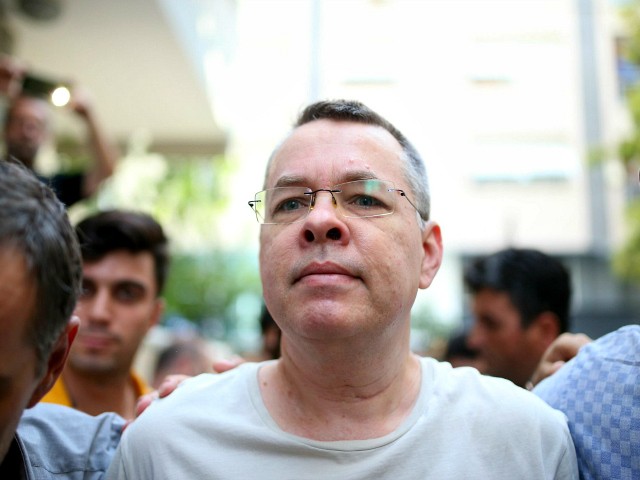 U.S. NATO ally Turkey's indictment against American pastor Andrew Brunson deems "Christianization" as his terrorism-related crime, the preacher's daughter declared during a religious liberty panel discussion at the 2018 Values Voter Summit on Friday.
The pastor's daughter Jacqueline Furnari declared, "A year and a half after his initial detention [in October 2016], Turkey finally charged him when they handed down an indictment — 62 pages. In this indictment, my father's crime is named as 'Christianization,' essentially equating it to terrorism and espionage and it is, for the most part, based on secret witnesses' testimony."
Brunson, charged with terrorism and espionage in connection to the failed coup attempt in July 2016, is facing 35 years in Turkish custody.
In July of this year, Turkish authorities released him from jail and placed him on house arrest after he served two years behind bars.
Turkey detained Brunson in October 2016 in the wake of the failed attempt to overthrow Turkish President Recep Tayyip Erdogan's regime. Ankara accused the pastor of helping individuals who allegedly participated in the insurrection.
At the time of his arrest, North Carolina-native Brunson was running the Resurrection Church in the Turkish city of Izmir.
Furnari noted that there is no physical evidence against her father. She stressed that her family's faith in God remains strong despite her father's ordeal in Turkey.
"I've really come to realize that God is in complete control and he has a plan and this is all for his word. He is worth everything that my family has gone through," she said, adding, "The entire last two years has really shown that these are just baseless charges. It's a sham trial, and my dad is being used as a bargaining chip and suffering for Jesus Christ."
During the summit, U.S. Secretary of State Mike Pompeo said that the Trump administration continues to push for Brunson's release.
"We are sparing no effort to return Pastor Brunson to the United States … he has been wrongly held, and his proper place is to be able to return here to once again practice his faith in our great nation," Pompeo proclaimed. "Know this, President Trump will never forget about our own."
Furnari said she hopes her father is released at his next court hearing on October 12, urging everyone to pray for him.
President Erdogan has previously indicated that Brunson's release would be conditional on the United States extraditing Turkish cleric Fethullah Gulen.
Ankara has accused Gulen, who lives in self-imposed exile in Pennsylvania, of organizing the attempted coup, an accusation the cleric denies.
Some experts believe the Turkish government is turning a blind eye to the persecution of Christians.
At Friday's religious liberty panel discussion, Loay Mikhael, a senior adviser for the pro-Christian IraqHaven.org, noted that Turkey is mistreating followers of Christ who worship within its borders.
In March, Dr. Y. Alp Aslandogan, the executive director of the Alliance for Shared Values, told Breitbart News that the Erdogan government considers Christians "enemies of the state."
http://feedproxy.google.com/~r/breitbart/~3/1sNSiynS3Xc/