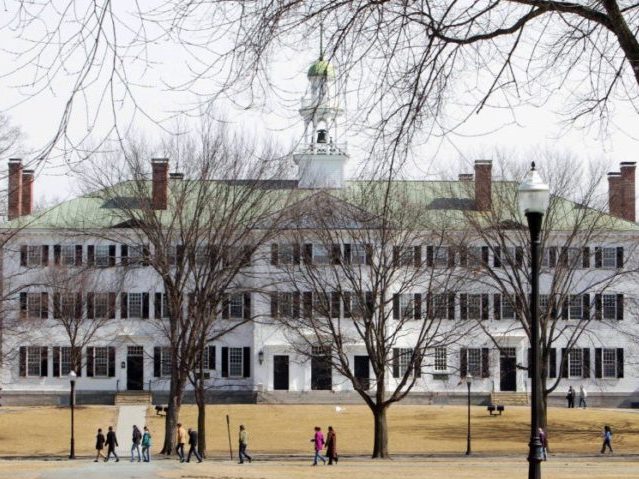 A group of Dartmouth students has filed a lawsuit that accuses three male professors of sexual harassment.
Seven women filed a lawsuit against Dartmouth College in New Hampshire on Thursday for allowing professors William Kelley, Paul Whalen, and Todd Heatherton to allegedly harass female students.
Whalen and Kelly are accused of several instances of harassment, including assaulting a student after a night of drinking, flirting with women that work beneath them, and punishing students who rejected them. All three professors have been accused of touching students inappropriately.
Kristina Rapuano, one of the plaintiffs, claims that Whalen assaulted her on two occasions. During one of the assaults, Whalen allegedly forced his hands down her pants. In the second occasion, he allegedly raped her. Another plaintiff claims that Whalen raped her as well.
"The seven plaintiffs, each an exemplary female scientist at the start of her career, came to Dartmouth to contribute to a crucial and burgeoning field of academy study," the lawsuit reads. "Plaintiffs were instead sexually harassed and sexually assaulted by the Department's tenured professors and expected to tolerate increasing levels of sexual predation."
Dartmouth President Philip Hanlon published a statement about the accusations, deflecting criticism that the college ignored the students when they complained about the professors internally.
"I would like to reiterate that sexual misconduct and harassment have no place at Dartmouth," Dartmouth President Philip Hanlon said in a community-wide statement. "We applaud the courage displayed by members of our community within PBS who brought the misconduct allegations to Dartmouth's attention last year. And we remain open to a fair resolution of the students' claims through an alternative to the court process.
Professor Heatherton's attorney, Julie Moore, claims that it is unfair to lump him in together with the other professors. Moore says that Heatherton had no knowledge of the accusations made against the other professors.
"Professor Heatherton is extremely concerned about being grouped together with the other professors. He had no knowledge of the specific allegations that were made about them. He did not engage in the general patterns of conduct they are accused of," Moore said. "Many of the allegations that attribute knowledge or conduct to Professor Heatherton are patently false."
http://feedproxy.google.com/~r/breitbart/~3/ll4R0y-hYuM/