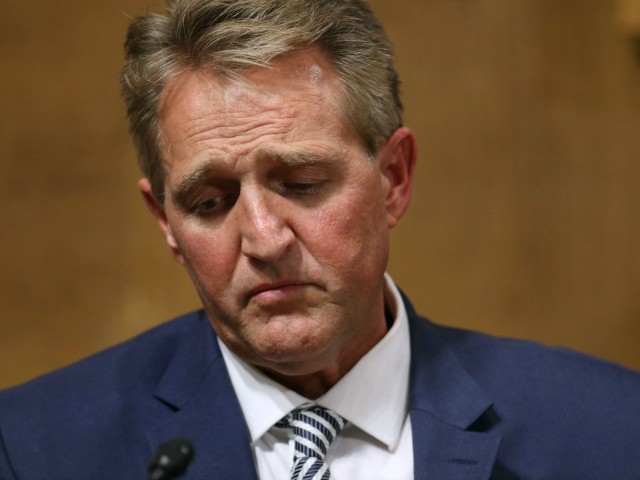 Former Secret Service agent Dan Bongino told Fox & Friends on September 29 that "Jeff Flake has no spine."
His comments came a day after the Republicans on the Senate Judiciary Committee acquiesced to Sen. Flake's demands for an FBI investigation into the sexual abuse allegations against Supreme Court nominee Brett Kavanaugh.
Bongino was asked his opinion of Flake's demand for an investigation in exchange for his support for Kavanaugh, and he said, "Jeff Flake is basically a mercenary. That's what's wrong with Jeff Flake."
He continued, "Jeff Flake has no spine. No one can say that right now because they're under this illusion that Jeff Flake is somehow going to back them up on the Senate floor when there's a floor vote."
Bongino said the Democrats know the FBI investigation is not going to bring any "clarity to this situation," but they wanted it because "they needed a delay." He observed, "And Jeff Flake gave it to them. He sold out the GOP. Everybody's afraid to say it, in some desperate hope that this man is going to grow a spine over the next few days on the floor vote, [but] he's finished. It's time to move on."
He said the GOP must put their focus on Sens. Lisa Murkowski (R-AK), Susan Collins (R-Maine), and Joe Manchin (D-WV) to secure confirmation.
AWR Hawkins is an award-winning Second Amendment columnist for Breitbart News, the host of the Breitbart podcast Bullets with AWR Hawkins, and the writer/curator of Down Range with AWR Hawkins, a weekly newsletter focused on all things Second Amendment, also for Breitbart News. He is the political analyst for Armed American Radio. Follow him on Twitter: @AWRHawkins. Reach him directly at awrhawkins@breitbart.com. Sign up to get Down Range at breitbart.com/downrange.
http://feedproxy.google.com/~r/breitbart/~3/rv9IoQsWbPM/