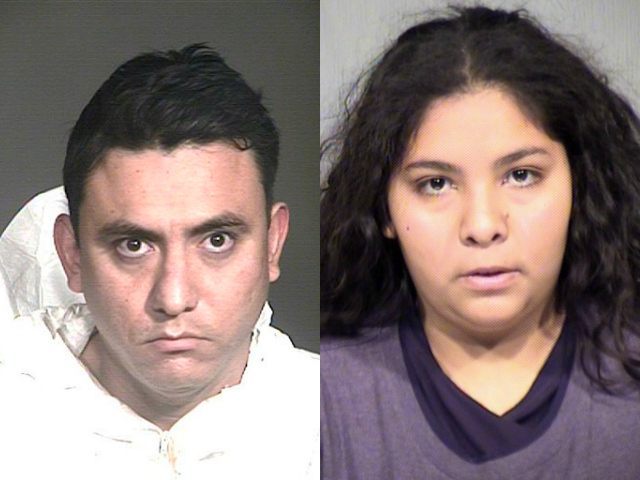 A Maricopa County Superior Court judge in Phoenix sentenced an illegal immigrant previously protected by the Deferred Action for Childhood Arrivals program (DACA) to 35 years in prison followed by lifetime probation for the kidnapping and attempted abuse of a 3-year-old girl.
The victim was discovered duct-taped and covered in feces in a closet in 2016, according to local reporting. A tipster called police and said he was offered the girl for sale as a sexual plaything by Francisco Javier Rios-Covarrubias, 30, an illegal immigrant DACA recipient from Mexico.
The charges stem from a January 2016 case described by investigators as one that "shocks the soul."
Rios-Covarrubias, 30, allegedly offered the 3-year-old malnourished victim for sex as he was left to babysit the child by the mother, Mayra Solis, 22, who was also arrested and currently faces numerous related charges. Solis's original charges were recently dismissed by the country prosecutor, but she was re-indicted and served new charges while in custody. Solis faces a preliminary hearing scheduled for November 26, 2018, in Maricopa County Superior Court.
Police found the child with her legs and arms bound and duct tape over her mouth. She was covered in feces inside a black trash bag with nothing but her shaved head exposed. Law enforcement at the time said the level of neglect was so harsh; the girl could not stand as police initially indicated the girl was sexually abused.
The 22-year-old mother Solis and Rios-Covarrubias pleaded not guilty to multiple felony abuse charges in February 2016. Rios-Covarrubias later pled guilty on August 28 and was sentenced on Tuesday. Solis was also arrested for fraud because she allegedly shaved her daughter's head to fool people into giving money on the basis that she was suffering from cancer. Medical exams reportedly showed sexual abuse signs and officials claim the girl was thrown into a closet and left for hours–and even days–as the adults went to work or hosted visitors for paid sex.
At the time of his arrest, Rios-Covarrubias was being shielded from repatriation by President Barack Obama's DACA program, according to the Senate Judiciary Committee.
Robert Arce is a retired Phoenix Police detective with extensive experience working Mexican organized crime and street gangs. Arce has worked in the Balkans, Iraq, Haiti, and recently completed a three-year assignment in Monterrey, Mexico, working out of the Consulate for the United States Department of State, International Narcotics and Law Enforcement Program, where he was the Regional Program Manager for Northeast Mexico (Coahuila, Tamaulipas, Nuevo Leon, Durango, San Luis Potosi, Zacatecas.)
http://feedproxy.google.com/~r/breitbart/~3/tE3MhSor7nw/