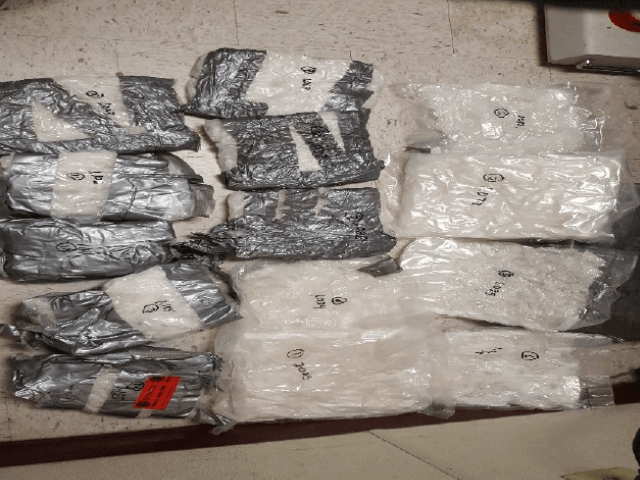 Border Patrol agents in the El Centro Sector arrested a DACA recipient for allegedly smuggling more than 17 pounds of methamphetamine on Tuesday morning.
Agents assigned to the Highway 86 immigration checkpoint observed a Kia Optima approaching for inspection. Agents referred the 22-year-old Mexican man to a secondary station. The agents identified the man as a recipient of President Barack Obama's Deferred Action for Childhood Arrivals (DACA) amnesty program.
A K-9 agent alerted to the possible presence of drugs or humans in the trunk of the Optima. Agents reportedly discovered 14 vacuum-sealed packages in the trunk, according to U.S. Custom and Border Protection officials.
Agents examined the packages and determined they were packed with 17.14 pounds of methamphetamine. Officials estimated the street value of the drugs at $34,284.
The agents arrested the DACA recipient on drug smuggling charges and seized the vehicle and drugs. All were turned over to the Drug Enforcement Administration for investigation.
"Every drug seizure our agents make is an important step forward to secure our streets from dangerous narcotics and dangerous people," El Centro Chief Patrol Agent Gloria I. Chavez said in a written statement. "I commend our agents for the hard work and dedication in keeping our communities safe."
Officials did not disclose when the Mexican national illegally entered the U.S. or when he received DACA protections.
During Fiscal Year 2018, El Centro Sector Border Patrol agents seized nearly 1,650 pounds of the dangerous drug. The seizure of these drugs deprived drug cartels and dealers of approximately $4.3 million worth of drug sales at street value.
Bob Price serves as associate editor and senior political news contributor for Breitbart Texas. He is a founding member of the Breitbart Texas team. Follow him on Twitter @BobPriceBBTX and Facebook.
http://feedproxy.google.com/~r/breitbart/~3/Pl8SwK0KbSE/