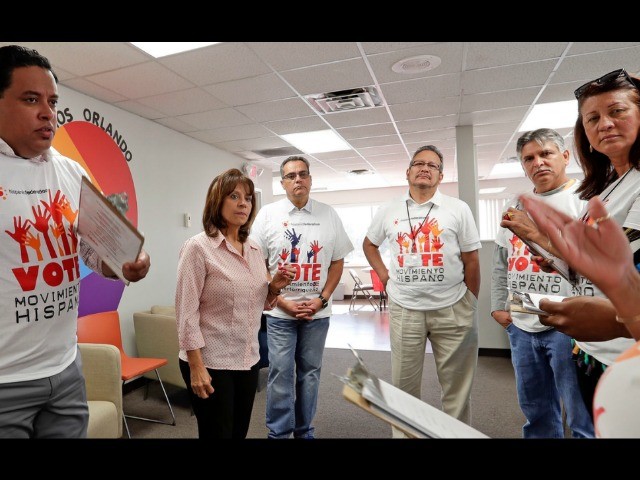 An illegal alien living in the United States, enrolled in the President Obama-created Deferred Action for Childhood Arrivals (DACA) program, is pleading with Latino voters to vote against President Trump's populist-nationalist agenda in the upcoming midterm elections.
In an op-ed for USA Today, a DACA illegal alien — whose mother is also living in the U.S. illegally — describes her efforts to bring Latinos out to vote in the midterms in order to stop Trump's agenda.
Instead, the DACA illegal alien pleads with Latinos to vote for "our values and needs."
"I call on members of the Latino community — both documented and undocumented — to shed their cynicism and not let the trauma of past experiences stop them from making a difference today," Itzel Guillen wrote. "This is our chance to ensure that we elect candidates and policies that represent our values and needs."
Guillen said that despite her not being able to vote in the midterms, she and the left-wing group Alliance San Diego are trying to drive up Latino voter turnout. One of the motivating factors for the DACA illegal alien is when Trump called MS-13 gang members "animals."
Guillen wrote:
So when I heard that thousands of children were separated from their parents and rounded up to be placed in tent cities, I knocked on more doors and I talked to more people. [Emphasis added]

When President Trump called my people rapists and animals, I worked harder to remind our community that we will make the difference in the upcoming elections. [Emphasis added]
As Breitbart News has reported, the U.S. is on track to import about 15 million new foreign-born voters in the next two decades should current legal immigration levels continue and the process known as "chain migration" go unchanged.
.@KrisKobach1787: "Compare [Russia meddling in the 2016 presidential campaigns] to the kind of foreign influence in the actual election numbers in foreign nationals voting. That's real and much more consequential…" https://t.co/QKdqpYjR2B

— John Binder 👽 (@JxhnBinder) July 20, 2018
Every year, more than 1.5 million legal immigrants are admitted to the U.S., deriving primarily from Central America and consisting of mostly low-skilled foreign nationals. Likewise, the legal immigration system to the U.S. prioritizes foreign nationals who have foreign relatives already living in the country. This process is commonly referred to as "chain migration" and it makes up more than 70 percent of all legal immigration to the U.S.
The booming foreign-born population is expected to hand over electoral dominance to Democrats, as foreign nationals are vastly more likely to favor leftist politicians over Republicans.
Data revealed by Axios notes that congressional districts with a foreign-born populations larger than 20 percent swing enormously for Democrats over Republicans. New York's 15th District, for example, goes strongly to Democrats, with a foreign-born population that is near 40 percent. Likewise, California's 34th District, which has a foreign-born population of 46.5 percent, is a Democrat stronghold.
http://feedproxy.google.com/~r/breitbart/~3/0j9Rrp3n_AA/