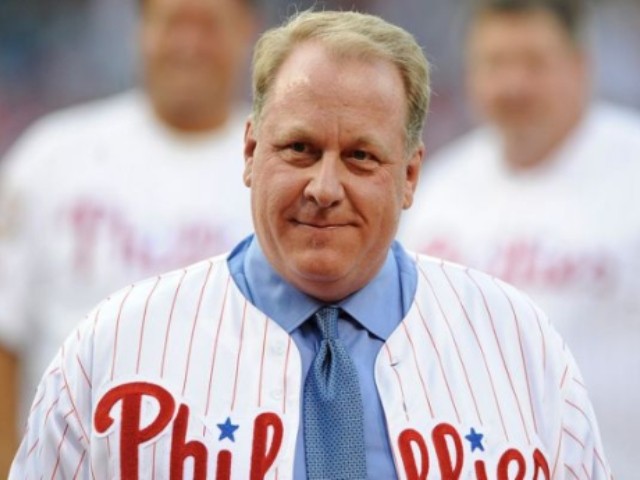 On Sunday, it was announced that Harold Baines and Lee Smith were chosen to be inducted into the Baseball Hall of Fame, meaning that Boston Red Sox pitcher and well-known conservative Curt Schilling was snubbed once again.
The sixteen-member panel met Sunday to choose the next stars who would be memorialized among the nation's best players. Former Chicago Cubs pitcher Lee Smith, 61, was given the panel's unanimous vote, while 59-year-old Harold Baines, a right fielder for the Cubs' neighbors, the Chicago White Sox, picked up 12 votes to be inducted into the Hall of Fame.
According to ESPN, long-time New York Yankees left fielder Lou Piniella missed the cut by one vote gaining only 11 of the panel's votes.
"George Steinbrenner, Orel Hershiser, Albert Belle, Joe Carter, Will Clark, Davey Johnson, and Charlie Manuel all received fewer than five votes," ESPN noted.
Notice who that leaves out? The famed "Bloody Sock" pitcher, Curt Schilling. Again.
Recently, Forbes sports writer Barry M. Bloom essentially admitted that Schilling is constantly passed over because sports writers who have the duty to vote for Hall of Fame candidates don't like the former Red Soxer's conservative politics.
Bloom admitted this month that he gave one of his votes to Schilling because he asked readers to suggest a player for inclusion. Baseball fans told Bloom to pick Schilling, a vote he has rarely given consideration.
The Forbes writer also noted that he is not the only sportswriter to have a "visceral and adverse reaction to Schilling."
"To be sure, because of his politics I've had a visceral and adverse reaction to Schilling," Bloom wrote. "I'm not alone as voter in that regard. It's not that he's a conservative and I'm a liberal. It's not he's a Republican, and I'm a Democrat. Schilling is a right-wing reactionary and a demagogue."
Schilling retired in 2009 after 20 seasons in the pros. The storied pitcher ended his career with a 216–146 record, a 3.46 ERA and 3116 strikeouts, the 15th highest strikeout total in Major League history. Yet he has been systematically shunned by liberal sportswriters tasked with voting for new members into the Baseball Hall of Fame.
With the 2018 voting for the Hall of Fame now all said and done, once again, Curt Schilling is out.
Follow Warner Todd Huston on Twitter @warnerthuston.
http://feedproxy.google.com/~r/breitbart/~3/OKAe5Os1YR4/