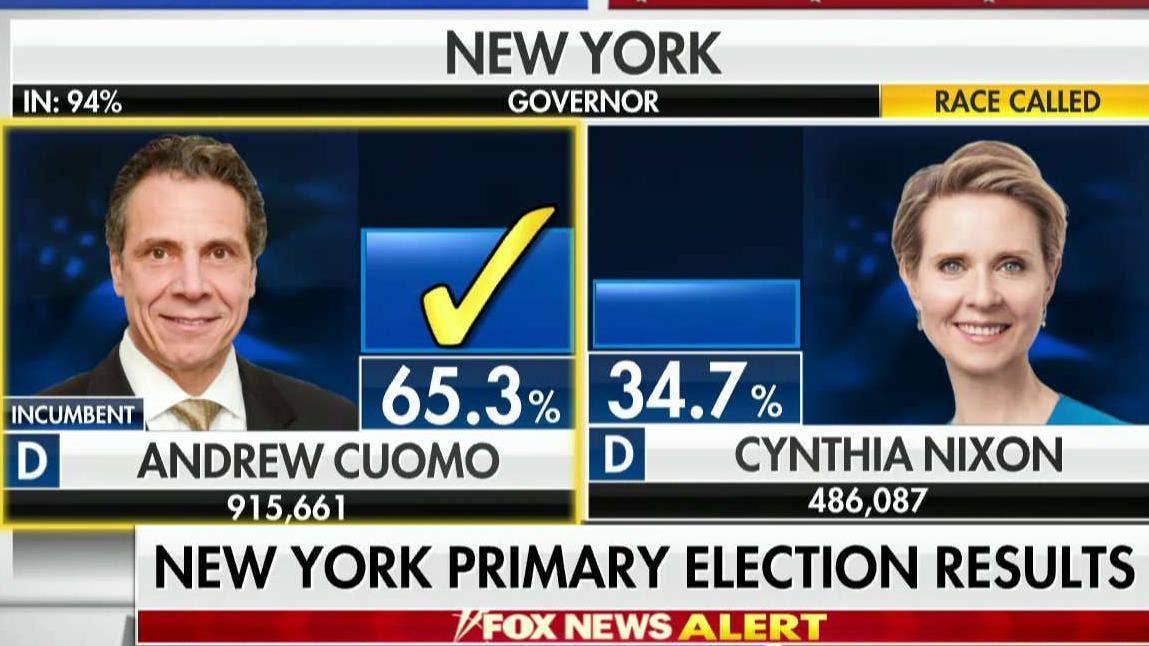 New York Gov. Andrew Cuomo on Friday ripped into New York's Democratic socialist wave after he comfortably fended off a gubernatorial primary challenge from actress and activist Cynthia Nixon — appearing to dismiss the movement as "not even a ripple."
"That is a revolution," he said of his win, according to the New York Daily News. "That is a wave. On the numbers. Not on some Twittersphere dialogue where I tweet you and you tweet me and between the two of us, we think we have a wave. We're not even a ripple."
As Democratic socialists knock off long-standing establishment candidates across the country, Cuomo was a top-tier target for the Democratic Party's left-wing activist base.
But, accompanied by a hefty campaign war chest and backing that included Hillary Clinton and labor groups, Cuomo was able to see off Nixon, despite her celebrity credentials as a former "Sex and the City" actress and her populist platform.
In doing so, Cuomo had touted his progressive achievements on the minimum wage, gun control and same-sex marriage, but presented himself as one that could get things done. Nixon had claimed he dove to the left to fend off her campaign, calling it "The Cynthia Effect."
'SEX AND THE CITY' STAR BOASTS CUOMO BEING DRAGGED TO THE LEFT BY 'THE CYNTHIA EFFECT' 
In his remarks to reporters on Friday, he looked to present himself as the pragmatic progressive rather than a "pontificator."
"A progressive Democrat, a Democrat in New York state, these are not ivory tower academics, these are not pontificators, these are not people who live in the abstract or theoretical," he said according to the Daily News.
"New York Democrats, these are hard-working men and women, they're middle class, they're working families, they have real problems, and they need real help in life, and they don't need theoretical or abstract solutions, they need real solutions in their lives."
While an obvious dig at Nixon, Cuomo also appeared to take a knock at 25-year-old Alexandria Ocasio-Cortez, who beat Rep. Joe Crowley in a primary in June. Ocasio-Cortez has become something of a national leader for progressives, pushing left-wing policies such as Medicare for all and the abolition of Immigration and Customs Enforcement (ICE).
"I am not a socialist. I am not 25 years old. I am not a newcomer," Cuomo said. "But I am a progressive, and I deliver progressive results."
Nixon's campaign, however, indicated that the race was less to do with ideas and more about money.
"We can maybe do it when we're outspent three-to-one, or four-to-one, but not 10-to-one, or 20-to-one," Rebecca Katz, a top adviser to Nixon told The New York Times, which reported Cuomo is expected to have spent $25 million.
Cuomo will face Republican Marc Molinaro and Independent Stephanie Miller in November's election.
http://feeds.foxnews.com/~r/foxnews/politics/~3/ZBjTYHjo5_M/cuomo-after-election-win-dismisses-socialist-wave-as-not-even-ripple.html